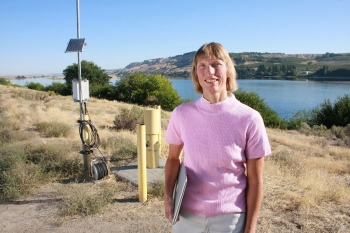 Karen Schuchardt is the user platform architect at Pacific Northwest National Laboratory on an open-source platform that will allow scientists to easily set up, execute, manage, and analyze simulations and associated data for subsurface studies.
Check out other profiles in the Women @ Energy series and share your favorites on Pinterest.
As an integral member of the Data Intensive Scientific Computing team at Pacific Northwest National Laboratory, Karen Schuchardt brings more than a quarter century of experience researching, designing, developing, and deploying scientific computing environments and technical applications. Karen is well known for building successful collaborations and collaborative environments with domain and computing experts and has worked in the climate, biology, subsurface, and chemistry domains, among others. Her work spans all areas of user tools and environments for a new generation of simulators, which address larger and more complex problems. She conducts research in data and metadata models for unstructured climate grids, which was showcased as part of a 2008 DOE INCITE award team. She is working on parallel IO, parallel data analysis, compression, and multi-scale model coupling and is designing specialized end-user environments. These environments include web-based semantic data portals for data sharing and discovery, as well as rich client tools and data integration platforms. Karen also is the architect for the user platform portion of DOE's Advanced Simulation Capabilities for Environmental Management (ASCEM) project. This open-source platform will enable scientists to easily set up, execute, manage, and analyze simulations and simulation data for subsurface studies.
1) What inspires you to work in STEM?
A curiosity about how the world around us works. I get the opportunity to work with scientists in many domains, from chemistry to climate and hydrology. It's amazing to be exposed to so many different aspects of leading-edge science.
2) What excites you about your work?
What excites me most about my work is that there is always an opportunity to learn new things. Computing is such a dynamic field that affects all aspects of science, and I have the opportunity to learn a little bit about science domains while contributing to solving the enormous computing challenges. There is always another challenge just around the corner.
3) How can our country engage more women, girls, and other underrepresented groups in STEM?
Good question. Just about everybody needs a support group of some sort, whether it's parents or peers or mentoring organizations. People need to be able to envision themselves in an environment where they believe they can succeed and enjoy what they do. Exposing underrepresented groups to a variety of mentors in different fields and work environments would enable individuals to determine what interests them.
4) Do you have tips you would recommend for someone looking to enter your field of work?
Getting a good education from a good school is important, but it's also important to have well-rounded skills. Much of science involves working on teams, so being able to communicate well with others is critical. I would really recommend internships as a way to get exposure to different kinds of work and help identify what you really like to do.
5) When you have free time, what are your hobbies?
I have lots of diverse hobbies. I love grow my own vegetables, work out—whether it's cycling, running, or a fitness program—and, as much as possible, spend time backpacking or canoeing in the mountains and wilderness area. I also love to read.