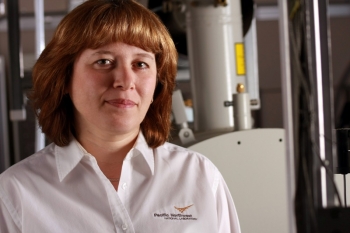 Dr. Julia Laskin's career has taken her from Leningrad, USSR, to Washington State via Israel. She earned her master's degree from Leningrad Polytechnical Institute, her Ph.D. from the Hebrew University of Jerusalem, and worked at the University of Delaware on the East Coast until coming to Pacific Northwest National Laboratory in Washington State.
Check out other profiles in the Women @ Energy series and share your favorites on Pinterest. 
Dr. Julia Laskin at Pacific Northwest National Laboratory is a nationally recognized expert in gas phase ion chemistry, surface modification, and chemical characterization. She is actively involved in developing innovative mass spectrometry capabilities. She is leading research into the controlled preparation of catalytic materials using beams of mass-selected ions. Nanospray desorption electrospray ionization mass spectrometry developed by her group has led to insights in catalysis, chemical imaging, and biology. She is a well-respected scientist and mentor. She is a prolific writer, and her research has graced the cover of several scientific journals. She is often asked to speak at professional societies. She has received accolades including the Presidential Early Career Award, the Rising Star Award from the American Chemical Society, and the Biemann Medal for Achievements in Mass Spectrometry. Her advising of students and scientists earned her a Department of Energy mentoring award.
1) What inspired you to work in STEM?
I did not know what it was like to be a scientist, but, somehow from the bottom of my heart, I was always interested in science. I just was not sure I was good enough for it. To my great surprise, when I started my Ph.D. studies, I discovered scientists, although very smart, were just normal people.
2) What excites you about your work at the Energy Department?
When I first came to Pacific Northwest National Laboratory for an interview, I was very impressed with the capabilities available at the Environmental Molecular Sciences Laboratory, a Department of Energy user facility located at Pacific Northwest National Laboratory. I still am impressed. The infrastructure we have at EMSL enables the development of exciting new approaches for addressing important scientific problems. It is also a privilege for me to work with very creative researchers both at Pacific Northwest National Laboratory and in universities.
3) How can our country engage more women, girls, and other underrepresented groups in STEM?
Seminars and hands-on activities could help representatives from these groups develop confidence and attract them to careers in STEM.
4) Do you have tips you'd recommend for someone looking to enter your field of work?
It is difficult being a scientist without having both a passion and a curiosity for science. However, this is not enough. The ability to see bigger picture, persistence, networking, and communication skills are all equally important.
5) When you have free time, what are your hobbies?
I like traveling with my family and reading. My children occupy most of my free time and add another dimension to my life.