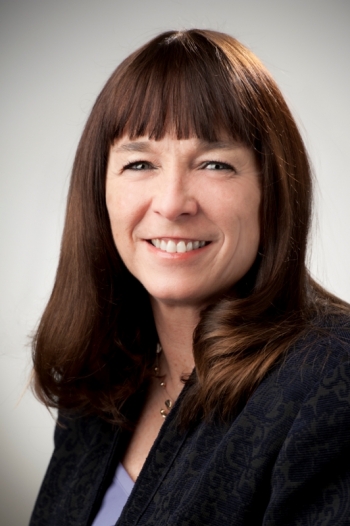 Jill Deem is the Chief Information Officer and Director of Information Services for the National Renewable Energy Laboratory (NREL).
Check out other profiles in the Women @ Energy series and share your favorites on Pinterest. 
Jill Deem is the Chief Information Officer and Director of Information Services for the National Renewable Energy Laboratory (NREL). Jill Deem's thirty-seven year career in IT is divided between the public and private sectors comprising many leadership roles including over seventeen years as Chief Information Officer (CIO).  As CIO at the U.S. Department of Energy's National Renewable Energy Laboratory (NREL), Jill leads the organization responsible for managing NREL's Information Technology environment, research library, and scientific publications processes. Jill continues to be active in the leadership of the National Laboratory Chief Information Officer's Council, serving on the executive committee for the fourth year, and having served as Chair in 2010.  The National Laboratory Chief Information Officer's Council is comprised of 22 Department of Energy laboratories and plants across the country. Jill is also one of a few CIOs from across the Department of Energy laboratory complex serving on the Information Management Advisory Group providing consultation to the Office of the Under Secretary of Energy on IT and Cyber Security. Jill received a Bachelor of Science degree in Secondary Education with a major and minor in Mathematics from Auburn University. Jill and her husband have three daughters and five grandchildren. They reside in Conifer, Colorado.
1)  What inspired you to work in STEM?
 Math was always my favorite subject in school.  I had a great math teacher in high school that not only inspired me, but inspired all of his students.  I went on to major in Secondary Education with an emphasis in Mathematics and I also minored in Mathematics at Auburn University.  My father also inspired me.  He encouraged me to learn about computers.  At that time, there were no degrees related to computers.  There were only a few computer classes (Fortran, Assembly language) available in the school of Industrial Engineering at Auburn.  I took those classes as my electives because I found programming to be very exciting and it utilized the logic skills I learned in Math.  My inspiration was a combination of natural ability, encouraging teachers, and an insightful father. I have never looked back!
2)  What excites you about your work at the Energy Department?
That is easy—energy is one of the biggest challenges in the world.  To have a part in supporting a better future for generations to come is what this job is all about for me.  My job as CIO is the kind of job you could do in many fields and organizations.  But supporting the renewable energy mission is motivating and exciting for me.
3) How can our country engage more women, girls, and other underrepresented groups in STEM? 
Excitement and success in STEM at an early age would be beneficial.  Partnering elementary school children who score high in math and science aptitude with mentors could go a long way.  By creating a program similar to the reading programs many of our Department of Energy organizations participate in with local schools, students could come and work with mentors on exciting STEM activities (as a volunteer program).
4) Do you have tips you'd recommend for someone looking to enter your field of work? 
My field of work is Information Technology.  In today's world, I have more hope of students being interested in IT because it fuels the social network of our young people. I am a Chief Information Officer which means I am responsible for IT strategic planning, innovation, funding, and operations.  For someone to enter my field, people skills are very critical. Sometimes when people are strong in Science and Math, they may not focus enough on the interpersonal skills necessary to succeed in today's collaborative world—especially when you can hide behind your social networking tools.  So, my tip would be more face to face interactions, study interpersonal skills, and stay away from email and social media for communications where there may be conflict or a possibility of miscommunications.
5)  When you have free time, what are your hobbies?
Having a job that is technology intensive inspires me to get away from technology when I have free time.  I have a Tennessee Walking Horse named Bob Seger.  He and I like to ride in the Colorado Rocky Mountains where I live.  Breathing the fresh air, looking out over the land from mountaintops—also inspires me to continue my dedication to supporting renewable energy research and deployment.  I love to have my three children and their families up to the mountains for family gatherings, sledding, and horseback riding.