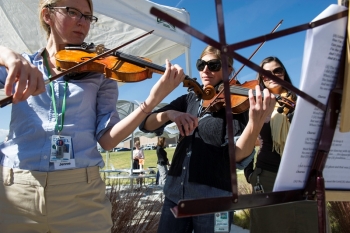 Jennie Jorgenson has been working at the National Renewable Energy Laboratory in Golden, CO since 2012. Here she's on campus, playing music with colleagues. Photo credit Dennis Schroeder
Check out other profiles in the Women @ Energy series and share your favorites on Pinterest.
Jennie Jorgenson has been working at the National Renewable Energy Laboratory in Golden, CO since 2012. At NREL, Jennie analyzes the impacts and benefits of renewable energy technologies on the power grid in the United States. Her current work focuses on using technologies such as concentrating solar power, energy storage, and demand response to address concerns about the uncertain and variable output of wind and solar systems. She received a M.S. in Mechanical Engineering from the University of Colorado at Boulder in 2012 and a B.S. in Chemical Engineering from the University of North Dakota in 2010.
1) What inspired you to work in STEM?
I sort of chanced upon it. As a kid, I loved math and science classes, so a teacher encouraged me to go into engineering. At that point, I had no idea what engineers actually do. A love of problem solving has kept me in the field. I love coming into work and knowing that by the end of the day, I will figure something out; something will make a little bit more sense.
2) What excites you about your work at the Energy Department?
It's an extremely exciting time to be working in this field. We are seeing increased deployment of renewable energy and a corresponding interest in modernizing the power grid to accommodate these higher levels of variable generation technologies. Providing tools and analyses for electric utilities, grid operators, and policy makers is essential for effective decision making as renewables continue to penetrate the market. At NREL, we find that contributing renewable energy deployment is extremely rewarding.
3) How can our country engage more women, girls, and other underrepresented groups in STEM?
I think increasing STEM exposure from a young age will help our country engage more bright minds (and not only women and underrepresented groups!). I remember teaching elementary students about non-Newtonian fluids using a wading pool full of corn starch and water. Giving kids hands-on opportunities helps them realize that STEM fields are interesting, fun, and sometimes messy. Very messy, in that particular case.
4) Do you have tips you'd recommend for someone looking to enter your field of work?
First, find out what you like to do! If you enjoy tackling challenging problems and asking big questions, STEM might be a good fit. It's essential to make sure that your chosen field of work can keep you interested – passion can help make a great scientist. Work hard and look for opportunities to diversify your skillset. Finally, don't be afraid to ask questions. Inquisitiveness is an important but often undervalued trait in STEM fields. Asking questions allows you to draw from the knowledge of others – no need to reinvent the wheel!
5) When you have free time, what are your hobbies?
I enjoy taking advantage of the Colorado outdoors by hiking, biking, running, and backpacking. I am also an ardent fan of books, board games, music, and public transportation.