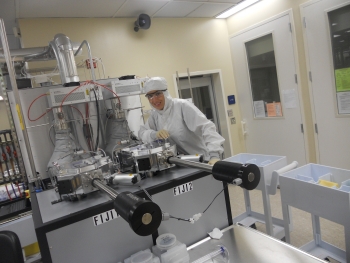 Dr. Jasmine Hasi is an expert in designing and fabricating silicon radiation sensors for high energy physics and macromolecular crystallography applications.
Dr. Jasmine Hasi is an expert in designing and fabricating silicon radiation sensors for high energy physics and macromolecular crystallography applications. She received her doctorate from Brunel University in London, with much of her thesis research being performed at Stanford and SLAC. Jasmine was instrumental in the development of 3D architecture radiation sensors working with her advisors. Sensors based on the technology she helped advance will be installed in the core of the ATLAS detector at the LHC in 2014. While working at the Stanford Nanofabrication Facility, Jasmine was involved in the first batch of silicon radiation sensors, which have no guard rings and a completely active volume. One application of these active-edge sensors that she was involved in is macromolecular crystallography. Jasmine is now a staff member at SLAC National Accelerator Laboratory, where she contributes to the LCLS and CDMS experimental programs.
1) What inspired you to work in STEM?
From a very young age I had always been fascinated with technology, especially cybernetics from watching sci-fi movies like Star Wars. After attending a young women's engineering course in the UK, I knew then that I wanted to contribute to the future of technology. So, with the support and encouragement from my parents who don't have an academic background, I worked to my best ability to achieving my goal. I now believe that if I hadn't followed my dreams and passions, I never would've got my Ph.D. in Physics and be working in Silicon Valley.
2) What excites you about your work at the Energy Department?
Apart from being involved in various cutting edge technology research projects, I get to interact and meet with several inspirational scientists and Nobel Prize winners from around the world. I feel empowered at work, knowing that the future of science has shaped human destiny and our lives, and that a small fraction of my contribution could be part of making history.
3) How can our country engage more women, girls, and other underrepresented groups in STEM?
Alas, the world of technology and science is still a man's world, but over the last decade or so, I have seen an increase of women who are making a difference and a name for themselves. However, I do believe that these remarkable women are not being noticed in society or media, and believe that these successful women should be more vocal and possibly need more media coverage so that young girls (target audience) can acknowledge these powerful icons and feel inspired to follow in the same footsteps.
4) Do you have tips you'd recommend for someone looking to enter your field of work?
I know my field of work is very specialized and competitive, but if I were to advise someone how to get involved then I would say that studying hard and networking are key. It's important to keep up to date with current technology, by attending conferences/workshops and reading respectable papers, journals, etc. However, I do believe if you follow your passion and you are very driven then all will prevail.
5) When you have free time, what are your hobbies?
As I spend a majority of my time confided to a test room or a clean room laboratory, I very much miss the great outdoors.  So in my free time, I like to take in the beauty of nature, like going to the beach, hiking in the woods, and just getting outside. In addition, I also enjoy swimming and even some days if I really feel like getting away from civilization then I get on a boat and go deep-sea fishing.