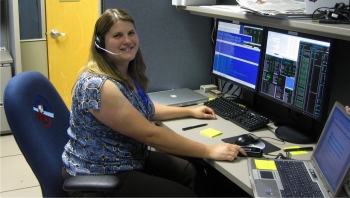 Dr. Jana Thayer works on the Fermi gamma-ray space telescope.
Check out other profiles in the Women @ Energy series and share your favorites on Pinterest. 
Dr. Jana Thayer earned her B.S. in Engineering Physics and a Ph.D. in Particle Physics from the University of Illinois and the Ohio State University, respectively. She then served as a postdoctoral scientist at the University of Rochester, where she continued her doctoral research into the radiative decays of mesons containing bottom quarks.  Dr. Thayer was a long-term member of the CLEO collaboration. In 2004 she took a position with the SLAC National Accelerator Laboratory working on the Fermi gamma-ray space telescope to which she made many contributions. In particular she was the lead for the Large Area Telescope (LAT) flight software team. This team received a NASA Group Achievement Award. Dr. Thayer then assumed responsibility for leading the data acquisition team for the Linac Coherent Light Source, and still serves in this role. She is also the LCLS Photon control and data systems deputy manager and the Cherenkov Telescope Array MRI deputy project manager.
1) What inspired you to work in STEM?
I grew up near Fermilab and was fortunate enough to attend one of their Saturday morning physics programs which introduced me to some of the ideas of particle physics and made me want to learn more.  I was mystified by the concepts introduced and enthralled by the big machines required to study them. It was there that I first got hooked on instrumentation and learning about the fundamental building blocks of matter.   When I went to college I majored in physics, and I found both a sense of community and an intellectual endeavor to which I wanted to contribute.
2) What excites you about your work at the Energy Department?
Short answer:  I love working at the cutting edge on a variety of experiments that contribute significantly to the sum of human knowledge.  I enjoy working on innovative hardware and software that enables basic science research.
Long answer:
Because of the skillset I gained in working with the hardware and software required to readout large instruments, I have been able to work on two fantastic projects at SLAC:   the data acquisition system for LCLS and the Fermi Gamma-ray Space Telescope.
The Linac Coherent Light Source (LCLS) generates an amount of data comparable to particle physics experiments, which is unlike previous photon science experiments, so it's a surprisingly good fit for someone with a particle physics background.  The data acquisition system reads out, stores, and processes the data captured by the instrument detectors and makes it visible to scientists sitting in the control room.  I love the enthusiasm and dedication that everyone brings to each new experiment, especially in light of the fact that almost everything that LCLS does is new and exciting and has never been done before (or couldn't be done before). There are essentially two new experiments every week in LCLS, and you can really feel everyone pulling together to make them work and to get the best data possible out of each one.  For me, it's challenging and exciting to have such quick turnover between experiments - not like high energy physics at all!  There are different technical challenges every week, lots to learn, and scientists who are really pushing the envelope every day.  In the end, I like the fact that we are all pushed up to and beyond or limits to do cutting edge science.
Fermi is in space (SPACE!!) and I contributed to building and testing the data acquisition electronics and the flight software running on the principal scientific instrument onboard.  It's a sensitive, beautiful imaging instrument for exploring the gamma-ray sky and the exotic phenomena that generate this high energy radiation.  Building a particle physics detector to withstand the rigors of launch and space was challenging, and I really enjoyed learning how to build something robust, knowing I'd never be able to touch it again, not even to jiggle a cable or fix a loose connection.  In the lab, I could always check the power and ground or look at a signal on an oscilloscope when some piece of electronics stopped working, but it's not as easy in space.  Launching the instrument was exciting.  Powering it for the first time on orbit was nerve-wracking and exhilarating.  But seeing the studies coming out of the increasingly deepening views of the universe in this energy range is the most rewarding of all.  This was a unique collaboration between the DOE and NASA and I was thrilled to be in the right place at the right time to contribute to this collaboration of astrophysics and particle physics communities.  Every now and then, my phone jingles with a text message from space indicating that Fermi has repointed to look at something new and exciting; it brings a smile, every time.
3) How can our country engage more women, girls, and other underrepresented groups in STEM?
I'm certainly a big fan of all the outreach efforts I've been a victim of, like the Saturday morning physics program, that introduced me to a lifelong love of physics.  I'd love to see more such outreach efforts and earlier.  In addition, I think that girls' natural curiosity should be engaged and encouraged from very early on, so they are not easily turned off during junior high and high school.
4) Do you have tips you'd recommend for someone looking to enter your field of work?
Going through college and graduate school (and postdocs) is how I arrived here, although I'm sure there are other ways.  In the end, I think I learned the most from working with and learning from other people.  I had to learn to be comfortable asking questions and doing things wrong half a dozen times before arriving at a better approach.  I'd recommend learning as much as possible from the people around you and collaborating with others as much as possible.  Good ideas really benefit from different perspectives and the best work is never done in a vacuum.
5) When you have free time, what are your hobbies?
Lately, my spare time has been soaked up by my children, who, after all, need to learn how to do cartwheels and somersaults from somebody.  Who better than me?  It is both an instructional exercise and comic relief for my whole family.  When I am not attempting gymnastic feats, I like hiking and bird-watching and spending time outdoors as much as possible.  When I can't be outside, I like to knit, bake butter-laden cakes, and read.