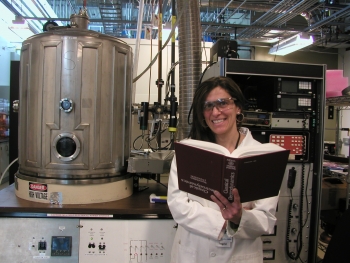 Dr. Ingrid Repins is a senior scientist and principal investigator for kesterite photovoltaics at the National Renewable Energy Laboratory.
Dr. Ingrid Repins is a senior scientist and principal investigator for kesterite photovoltaics at the National Renewable Energy Laboratory.  She has worked with thin film photovoltaic devices for over 20 years in the areas of growth, characterization, industrial manufacture, and equipment.  She received her B.S. in physics with honors and distinction from Stanford University, and her M.S. and Ph.D. in physics from Colorado State University.  Dr. Repins has been honored to work with outstanding teams to achieve a 2004 R&D 100 Award "Lightweight Flexible Thin Film CIGS PV Modules," the world's first  20.0% efficient thin film photovoltaic device, and the most highly-cited 2008-2009 paper in the field of energy research.  She has authored and co-authored about 100 publications related to CIGS and CZTS photovoltaics. 
1) What inspired you to work in STEM?
I decided when I was 12 to solve the world's energy problems. I thought I would be done by High School, but of course when I got there I wanted to keep pushing. In those years, energy issues were hot in the news – it was the era of Jimmy Carter putting solar panels on the White House and the oil crisis and OPEC embargo. Also, my science teacher in middle school helped to make science fun for me and put good science ideas in my head. I really was fortunate to have one good teacher after the next, and my mother was an aerospace engineer so I had a great teacher at home too.
2) What excites you about your work at the Energy Department?
I feel so lucky that every day I get to work on a problem that is socially important and uses my training and skills in science. I love to be working with other people who are excited about science – and on top of all of that, I get paid for it. Twenty years ago I never would have thought that I could have a career in photovoltaics, but it has grown by factors of ten in my lifetime.
3) How can our country engage more women, girls, and other underrepresented groups in STEM?
Having role models are important, especially at the senior level. With role models, the younger researchers will have fewer moments of doubt. I also think that everyone in the workforce needs to be introspective about what we could be doing better to engage more women in the STEM workforce, and then to keep them here. Are we putting up barriers? Could we be revisiting the way things are always done? For example, this comes into play in the way we treat gender differences when it comes to workplace conditions like having to adjust a women's job duties if she works with an array of chemicals and she is now expecting. If she can no longer work with those chemicals and needs to change her position, will she be made to feel that's fine and okay, or that she's now making all these special requests and have to be catered to? We can think together about how we address those issues.
4) Do you have tips you'd recommend for someone looking to enter your field of work?
The first thing is that you need to work hard and find your niche. Despite what the tech fads currently are, find work that is at the intersection of what is important to society, what you're passionate about, and what you're good at.
5) When you have free time, what are your hobbies?
I have two young kids, and I love to do anything outdoors with them and play with them. Fortunately, Colorado is a great place for that. Both of my children play hockey and they gave me skates for Christmas. They can skate faster backwards than I can skate forwards, so I am trying to learn fast and keep up with them.