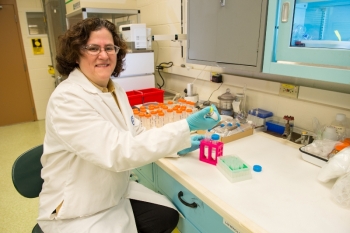 Giselle Sandi received a Ph.D. in electrochemistry and joined Argonne National Laboratory as a postdoctoral appointee in 1994.
Check out other profiles in the Women @ Energy series and share your favorites on Pinterest. 
Giselle Sandi received a Ph.D. in electrochemistry and joined Argonne National Laboratory as a postdoctoral appointee in 1994. She led fundamental research in the areas of energy storage, materials for hydrogen storage, and electrocatalytic membranes. During the same period, she was an adjunct faculty at the Illinois Institute of Technology, where she had the opportunity to mentor about eleven graduate students, who came to Argonne to complete part of their research work. In 2007, she became the first coordinator of the Laboratory wide postdoctoral program, which has been recognized as one of the best in the country. In 2011, the UChicago Argonne LLC Board of Governors honored Giselle with the Pinnacle of Education Award for her contributions and leadership in establishing Argonne's postdoctoral program. She is also the recipient of the 2004 Luminary Award for Excellence in Science, Engineering, and Leadership, granted by the Hispanic Engineer National Achievement Awards Conference (HENAAC) as well as several awards from the Chicago Chapter of the Electrochemical Society. Currently, Giselle works in Argonne's Chemical Science and Engineering Division, conducting research in nuclear forensics, sensor development, and nanoscale engineering and was appointed as the Women in Science and Engineering Program (WIST) Initiator of the Laboratory in April of 2013. Through WIST, the Laboratory strives to encourage and develop the full potential of women in science and technology. Giselle is also a founding member, past president, and advisor of Argonne's Hispanic Latino Club.
1) What inspired you to work in STEM?
I was born in Costa Rica and the educational curriculum there is such as all students in a particular grade take the same subjects. Therefore, all of us are exposed equally to science, math, social sciences, literature, and arts. I had excellent teachers, mostly females. When I was in high school, my first mentor was my Chemistry teacher. She was an excellent educator, role model, and encouraged me to pursue a career in Chemistry, not as an educator, but as a scientist. At that time, I was actually thinking in going to college to become a science teacher, but decided to apply to get into the Chemistry program at the University of Costa Rica. The faculty in the Chemistry Department was largely composed of females and therefore, finding role models was not a problem. Many of them became my mentors who inspired me and advocated for me. Upon my graduation with a MS in Chemistry, I became an instructor of Analytical Chemistry and the Laboratory coordinator. My mentors trusted me and respected my independence, but at the same time were there for me when I needed their advice. I then decided to come to the United States to pursue my Ph.D. in chemistry and I am committed to advocate for mentoring as I am an example of its effectiveness.
2) What excites you about your work at the Energy Department?
What excites me the most about my work at Argonne is the people: world class scientists and engineers working together to gain fundamental knowledge and pushing forward new applied technologies. I never forgot when one morning I opened the door to one of the Nobel Prize in Physics, who happened to have an office in the building I was working on at that time. The work I did for twelve years in developing new materials for energy storage had direct implications in becoming independent of petroleum sources, especially oversees. The work I am doing now in developing sensors has direct implication in National Security. Managing the postdoctoral program and helping them to develop professionally and get them ready for their new career endeavor was a rewarding experience. Leading the women in science and technology group and creating opportunities for all of us is, without a doubt, one of the highlights of my career.
3) How can our country engage more women, girls, and other underrepresented groups in STEM?
We have to start at the middle school level. Research has shown that middle school students are more receptive to learn new subjects than student in high school do. In the Unites States, the majority of the formal science education is focused on the 9th through 11th grades. During this three-year period, students are afforded the benefits of specialized teachers and resources to learn physics, chemistry, biology, earth science, algebra, geometry, and trigonometry. By this point, however, we have missed the optimal learning period for children, and possible are nearly five years past it. Role models and mentors are instrumental during this period of time as well. Well prepared science and math teachers are essential. Scientists and engineers should serve as mentors to teachers and provide them with resources such as online tools, distance learning, and school visits.
4) Do you have tips you'd recommend for someone looking to enter your field of work?
You have to have a solid fundamental background and start building from there. However, the days of people working on the same field for 40 years are over. You need to collaborate and learn to work in teams to accomplish much more than if you do it alone. Networking is powerful. Never underestimate who can help you open a different door. Work very hard, but love what you are doing. You need to be flexible, but follow your passion.
5) When you have free time, what are your hobbies?
Spending as much time as I can with my husband and my three boys; taking long walks; going to the movies; spending time with my friends and reading a good book.