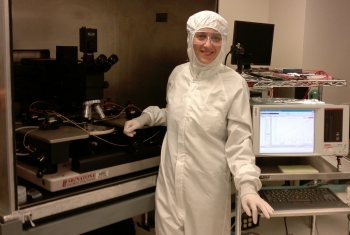 Gabriella Carini is a Staff Scientist at SLAC National Accelerator Laboratory's Research and Engineering Division.
Gabriella Carini has been a Staff Scientist at SLAC National Accelerator Laboratory's Research and Engineering Division since 2011, where she drives basic energy science detectors R &D, advancing research in next generation sensors and detectors to enable new science for X-ray Facilities. Previously, she worked at Brookhaven National Laboratory for more than five years, serving as a Research Associate, Assistant Physicist, and Associate Physicist. She earned her PhD in Electronic Engineering at the Optoelectronics Laboratory at the University of Palermo in Italy, where she also received her Lauream cum laude in Electronic Engineering.
1) What inspired you to work in STEM?
I've been drawn towards a STEM career because I have always felt curious about science and technology and the idea that was challenging and exciting. It was not what my parents expected me to do but they always support it.
2) What excites you about your work at the Energy Department?
I'm excited about my work at the Energy Department because it allows me to continuously take on new challenges and work with people of any age that keep the same interest and excitement about what they do as when they were students.
3) How can our country engage more women, girls, and other underrepresented groups in STEM?
I believe that our nation needs to support and help to develop and maintain a good private/professional life balance in order to engage more women and girls in STEM.
4) Do you have tips you'd recommend for someone looking to enter your field of work?
When we talk about detectors we say that there isn't one which is suitable for every experiment. Similarly there isn't a way to get to work in this field which is good for everyone. So my suggestion is to choose to do what you like and try to do it in your way. And be perseverant.
5) When you have free time, what are your hobbies?
They change with time and places I lived in. Traveling, hiking, photography and films are always among my favorites.