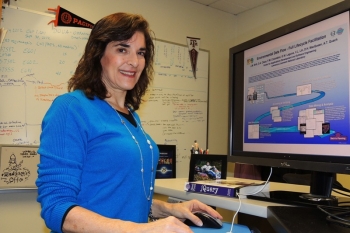 Francesca DeMello is a computer scientist at Lawrence Livermore National Laboratory (LLNL), in the Computation Directorate's Applications, Simulations and Quality Division.
Check out other profiles in the Women @ Energy series and share your favorites on Pinterest.
Francesca DeMello is a computer scientist at Lawrence Livermore National Laboratory (LLNL), in the Computation Directorate's Applications, Simulations and Quality Division. She is a software developer specializing in dynamic, data driven, web-based applications, and she is also the data architect for TEIMS, a system comprised of custom web and other applications with Oracle backend databases, supporting LLNL's Environmental Programs. 
Francesca received her BS in Computer Science from the University of the Pacific in 1985 and joined LLNL in 1986. She is the Technical Authority for ERD/EFA's data model's implementation and enforcement of LLNL environmental programs' business rules. Her extensive experience and knowledge of the environmental data domain led to her being selected as LLNL's technical representative to a Department of Energy  multi-lab working group tasked to develop and implement Environmental Management Electronic Data Deliverable, a Department of Energy sanctioned format for the electronic delivery of analytical data.
1)  What inspired you to work in STEM?
Ever since I can remember, I loved math and science. I was really fortunate to have some excellent and inspiring math and science teachers. When I was in junior high, I participated in an "Expanding Your Horizons" Conference where I attended a talk given by a woman engineer. I was hooked! That was the exact moment I decided I wanted to study Mechanical Engineering (prior to that day, I thought engineers were people who drove trains). Fast forward to college. When I finally enrolled in the required computer science class for engineers that I kept avoiding (because I had never touched a computer and I didn't want to be stuck in the lab all of the time like the COBOL students) I realized computer programming was the career of my dreams and immediately switched my major to computer science. I tell people that my job is fun and challenging and the only time I feel like it is work, is when I have to get up really early to commute.  I have the privilege of creating something unique, where I get to explore and solve puzzles like a treasure hunt, which helps others do their job more accurately and efficiently.
2)  What excites you about your work at the Energy Department?
My work is exciting because I have the opportunity to develop solutions to solve challenging problems by using and expanding my technical skills. I am proud that my work has contributed to the clean up of the groundwater in Livermore that got polluted when Lawrence Livermore National Laboratory was a navel air station.  The web-based applications that I develop for LLNL's Environmental Programs (Environmental Restoration Department, ERD and the Environmental Functional Area, EFA) organize, track, and report environmental data to satisfy government regulators and help researchers develop new ways to clean up the environment. I feel like my work benefits society.
3)  How can our country engage more women, girls, and other underrepresented groups in STEM?
Introduce STEM early and often when educating and entertaining a child. Encourage and financially support professionals to visit schools and teach programming to students. Utilize resources, such as the code.org web site, that promote and provide resources to teach coding "one hour at a time".  Increase support for, and access to, conferences such as "Expanding your Horizons" that introduce junior and high school students to careers in STEM. Sponsor field trips for schools to tour national labs such as Lawrence Livermore to experience real STEM projects and to "peek" into what it would be like to work in a STEM profession. The key to STEM engagement is exposure. It's all about the spark that happens when you learn something new that you can't stop thinking about; it all seems possible when the face you see doing it, looks like yours.
4) Do you have tips you'd recommend for someone looking to enter your field of work?
Complete a college level class in programming. No matter what profession you decide to pursue, at some point you will have to use computer software and having an understanding of the programming behind it will help you make better decisions. Information technology will be part of everyone's job and those with programming knowledge will be more valued and respected, especially by other computer professionals.
Another tip for those pursuing a career in computer science would be to study hard to earn good grades in math, science and programming courses. Your GPA will get you noticed. Volunteer and participate in group projects. Pay attention to the group dynamics and be proactive in helping motivate and educate other group members that may not be "pulling their weight". These are great learning experiences that illustrate to potential employers that you can complete assignments while motivating other team members.
Pursue career related part-time work while you are attending college such as STEM tutoring. Spend at least one summer participating in a student internship related to your career.
5) When you have free time, what are your hobbies?
I enjoy music and have played the trumpet in many groups over the years. Currently, I am a member of the Jim Ott Brass Ensemble with about 30 other horn players including my husband. I am a part-time photographer for an online magazine called Drum Corps World, that covers drum and bugle corps competitions and events all over the world (in my youth, I marched with a junior drum corps and more recently with an all-age drum corps) I spend a lot of time with my family at kart racing events watching my son and nephews compete since my father started this go-karting hobby with them over 5 years ago. I also enjoy cake decorating, scrapbooking and reading.