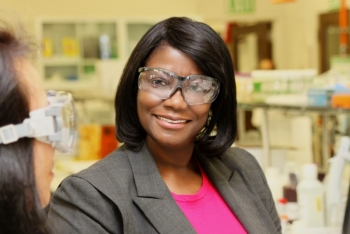 Dr. Alston is the Director of the Environment, Safety, and Health Directorate at Lawrence Livermore National Laboratory.
Check out other profiles in the Women @ Energy series and share your favorites on Pinterest.
Dr. Alston is the Director of the Environment, Safety, and Health Directorate at Lawrence Livermore National Laboratory.  As Director, she is responsible for providing services, programs, and facilities to the Laboratory and employees to successfully meet its goals in environmental protection, occupational health, and employee safety. She has been recognized for delivering superior performance in complex, multi-stakeholder situations and has dealt effectively with challenging operational, regulatory, safety, and environmental issues. Dr. Alston has a B.S. degree in Industrial Hygiene and Safety, a M.S. degree in Hazardous and Water Materials Management/Environmental Engineering, a M.S.E. in Systems Engineering/Engineering Management, and a Ph.D. in Industrial and Systems Engineering. She also holds certifications as a Certified Hazardous Materials Manager and a Professional Engineering Manager.
1) What inspired you to work in STEM?
My inspiration to work in STEM came from my father.  He was involved in an on the job accident that caused his death a week later.  I was in the sixth grade at the time and once I understood circumstances surrounding the accident, I immediately began analyzing the event.  I began to look for solutions that could have prevented the accident.  It was at that time I knew I wanted to study and work in the area of science and engineering where I could use my abilities to enable safe performance of work and protect the health and well-being of others.
2) What excites you about your work at the Energy Department?
The work in the Department of Energy is diverse and in many cases on the cutting edge of technology.  The work performed at the Lawrence Livermore National Laboratory (LLNL) is world class, cutting edge, and important to the advancement and security of our country. I am excited and honored to be associated with the work being performed by the LLNL.
3) How can our country engage more women, girls, and other underrepresented groups in STEM? 
The key is exposure and mentoring at an early age. It is important to expose young girls to role models that can serve, inspire, and encourage them to cultivate their interest in science and engineering. In addition, formal mentoring programs could be established to provide that one-on-one counseling and feedback relationship that is critical to understanding key concepts.
4) Do you have tips you'd recommend for someone looking to enter your field of work?
My recommendation for anyone interested in the field of Environment Safety & Health (ES&H) is to diversify their skills and knowledge in all aspects of ES&H. Being equipped with knowledge in various aspects of the field is necessary to function successfully in a leadership role. I would also recommend that in addition to the technical knowledge and skills that they work on developing their "soft skills".  These skills are critical in building trusting relationships and credibility with others.
5) When you have free time, what are your hobbies? 
 I enjoy writing and travelling. I recently published my first book, "Culture and Trust in Technology-Driven Organizations".