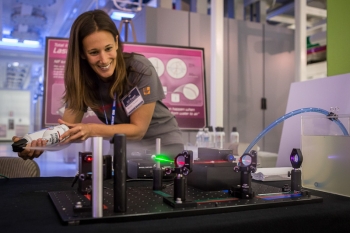 Félicie Albert is an experimental plasma physicist at the National Ignition Facility, Lawrence Livermore National Laboratory.
Check out other profiles in the Women @ Energy series and share your favorites on Pinterest.
Félicie Albert is an experimental plasma physicist at the National Ignition Facility, Lawrence Livermore National Laboratory. She earned her Ph.D. in physics from the Ecole Polytechnique in France in 2007, and her MS in Optics from the University of Central Florida/CREOL in 2004. She has conducted many experiments using high-intensity lasers in France and the US. Her areas of interest include the generation of novel sources of electrons, x rays, and gamma rays through laser-plasma interaction, Compton scattering, and laser-wakefield acceleration. She currently leads a successful Laboratory Directed Research and Development (LDRD) project developing laser-driven x-ray and gamma-ray sources for high energy density science applications. She also executes experiments for the National Ignition Facility. She has published her work in many leading physics journals, and regularly serves as a reviewer and committee member for conferences.
1) What inspired you to work in STEM?
When I was a kid, my parents had a big astronomy book at home, which I really liked to look at. Then they bought me a telescope, with which I spent long nights looking at and searching for the stars. That's when I knew scientist was something I wanted to do. Since physics was my favorite subject in high school, it was a natural choice for me to become a scientist.  
2) What excites you about your work?
The feeling that I do something unique, and that every day I learn something new and different. I do experiments using intense lasers, including the National Ignition Facility, the biggest laser in the world. I work with a lot of talented people on challenging problems. When you work really hard on designing an experiment, the excitement when you get your first data and see that it works is an amazing feeling.   
3) How can our country engage more women, girls and other underrepresented groups in STEM?
I think that outreach is the key. We should encourage young girls to do science really early on and not be shy about it. We have to show them that they can be successful if they take this career path. It can be a difficult road sometimes, but if they know how much it is worth the efforts they will have to put in, it will help them.
4) Do you have tips you'd recommend for someone looking to enter your field of work?
Be passionate about what you are doing, never give up, and don't be afraid to make mistakes. Most importantly, surround yourself with good mentors. I have been mentored by great people (men and women) throughout my career, and this took me where I am today. Getting advice and guidance from more senior people is really valuable, and any young person trying to enter science should be encouraged to do this. Don't be afraid to have ideas and speak up. In science this is really important.
5) When you have free time, what are your hobbies?
When I am not at work, I spend most of my time doing sports and outdoor activities with my husband. I particularly like skiing, surfing and scuba diving, but also swimming, running, cycling, and backpacking. California and the bay area are wonderful places for this.