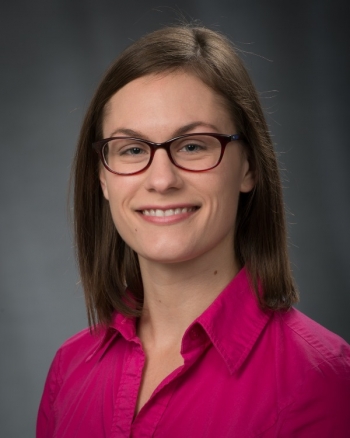 Esther E. Bowen is a data management specialist for the Environmental Science Division at Argonne National Laboratory, with responsibility for managing soil and groundwater contamination data generated during environmental investigations of agricultural sites.
Check out other profiles in the Women @ Energy series and share your favorites on Pinterest.
Esther E. Bowen is a data management specialist for the Environmental Science Division at Argonne National Laboratory, with responsibility for managing soil and groundwater contamination data generated during environmental investigations of agricultural sites. In this role, she works with a team to characterize impacts to water and other natural resources to guide on-the-ground decision-making. She also uses geographic information systems and mapping as a tool to answer environmental questions. Prior to this role, she contributed to Argonne research and analysis on hydrologic and water resource issues during development of Environmental Impact Statements focusing on solar energy projects in the western United States.
In 2011, Esther graduated with an M.S. in geophysical sciences from the University of Chicago, modeling changes in hydrology and riverine nutrient loading in the Midwest from alternative land use policies. In 2008, she received her B.A. in environmental studies from the University of Chicago; her thesis explored the energy and emissions impact of local versus organic food production.
1) What inspired you to work in STEM?
I grew up in the Chicago suburbs, but my parents often took me and my sister on camping trips and hiking when we were young, so I've always loved the outdoors. These experiences led me to consider environmental issues affecting the world both locally and globally. I knew I wanted to pursue a career helping to protect the world's natural resources and to improve global sustainability, and I realized that science and math are incredibly powerful tools for making concrete changes in the world.
Strong mentor figures were also a huge influence on me. My father had a number of careers in different science fields, and my mother was an avid birdwatcher as well as a medical technologist, so they were both role models. In college and grad school, I was also lucky to have an academic advisor who was a strong female mentor, and her support and guidance were crucial in encouraging me to pursue a career path in science.
2) What excites you about your work at the Energy Department?
Working at Argonne National Laboratory is exciting because there are so many different types of research being conducted on the cutting edge of new science. It is really an incredible feeling being in an atmosphere of discovery and innovation where people are working to address real world challenges. There are also researchers here from so many different backgrounds both culturally and academically, so it is a rich experience coming into contact with a huge cross section of people. 
3) How can our country engage more women, girls, and other underrepresented groups in STEM?
I think that sending the right message early is a huge aspect of engaging more women, girls, and underrepresented groups in STEM. It's important that parents, teachers, and kids themselves understand and address preconceptions or stereotypes about what is possible in STEM and that anyone can pursue STEM careers. As such, I think that increasing exposure to STEM at a young age would help to engage individuals in STEM early who might not otherwise consider these fields and to foster empowerment of these individuals to actually pursue these paths.
4) Do you have tips you'd recommend for someone looking to enter your field of work?
Although I ended up in a STEM career that I find interesting and intellectually satisfying, it took me a while to realize that I was interested in math and science. Before pursuing environmental science in grad school, my college experience was more interdisciplinary. This background actually has its own advantages because I feel like I benefit from a broad perspective on the issues, but I wish I had pursued math and science earlier in college to better understand the wide range of paths that were possible at that time.
I would recommend that someone who wants to go into STEM seek out math and science early to discover the things that they would like to do in life through broad exposure. This will give them more time to actively figure out the fields that interest them and to understand all of the options that are available to them, because STEM encompasses a huge range of fields and jobs! I would also recommend pursuing as many hands-on activities as possible because it will only get them more engaged and give them a more thorough, on-the-ground understanding of the potential career paths they are considering. Finally, asking for informational interviews with role models or people who are in STEM fields that they want to pursue is also a really good way to both make connections with people in that field, as well as to get a better sense of what helped those individuals to be successful and end up where they are now.
5) When you have free time, what are your hobbies?
When I am not at work, I spend time with my husband and two cats at our home in Chicago, as well as visit with my friends. I love food, and enjoy trying new recipes at home and finding new restaurants in the city. I also spend a lot of time reading. Recently, I have become interested in running and am currently training for the Chicago Marathon!