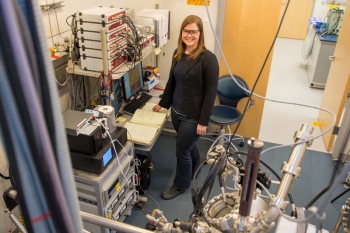 Erin Iski received her Bachelor of Science from the University of Tulsa in 2005 and then went on to Tufts University for a Ph.D. in chemistry under the supervision of Prof. Charles Sykes.
Check out other profiles in the Women @ Energy series and share your favorites on Pinterest. 
Erin Iski received her Bachelor of Science from the University of Tulsa in 2005 and then went on to Tufts University for a Ph.D. in chemistry under the supervision of Prof. Charles Sykes. Her research interests at Argonne National Lab include low temperature, ultra-high vacuum scanning tunneling microscopy (LT UHV-STM) projects, specifically looking at the self-assembly of amino acids on metal surfaces. These systems represent a unique test-bed for the origin of enantio-favoritism in biology and the transmission of chirality from single molecules to complete surface layers. These chiral systems represent a direct link to the understanding of certain biological processes, particularly the preference for some amino acids to form alpha helices vs. beta-pleated sheets in the secondary structure of proteins. Additionally, Erin is studying the chemical vapor deposition of graphene on metal foils with correlating studies of growth in UHV on single crystal surfaces. After completing her post-doc, she hopes to teach at a small university where both teaching and research are priorities. Her favorite thing about being a surface scientist is the ability to look at single atoms and molecules on a daily basis and to study their fundamental behavior. 
1) What inspired you to pursue a career in STEM?
My inspiration to work in STEM was developed initially by my love of chemistry and my pursuit of a Ph.D. in that field. During graduate school at Tufts University, I became the lead organizer for my research group's outreach program during which I spoke to over 200 high school students regarding nanoscience and how careers in STEM are a viable option for nearly all students as the range in careers is vast.
2)  What excites you about your work at the Energy Department?
My work in the Energy Department is incredibly exciting to me as I am involved in the fundamental research of single atoms and molecules. I use a specialized microscope, called a Scanning Tunneling Microscope, to image single molecules and collections of molecules on metal surfaces. Every day, I get the chance to look at single molecules and that is certainly something to not take for granted. I am also involved in projects that are focused on the growth of graphene on new surfaces, which is very exciting since graphene research has really exploded over the last decade. The application of my work spans many fields from understanding homochirality in biology to the use of graphene for enhanced plasmonic studies.
3) How can we engage more women, girls, and other underrepresented groups in STEM?
I think first and foremost, we need to expose more women and girls to the prospect of careers in STEM at a young age. The earlier these groups realize that they can have a part in these fields, the more likely they are to ultimately chose to go to college in a  STEM related path. Additionally, they need to see and meet older and younger female scientists. Getting the chance to see other females in these positions solidifies these career goals as possible.
4) Do you have any tips for others looking to enter your line of work?
For someone considering entering the field of chemistry, I would encourage them to consider all educational paths. It certainly does not take a Ph.D. or even a Master's degree to be successful in this field. I think that some students feel pressure to pursue advanced degrees and in many cases that is not necessary.  If someone has decided to get a Ph.D., they need to think long and hard about which school to attend. The process of successfully earning a Ph.D. takes at least five years and certainly hinges on how well an individual likes the research and the advisor. Many people make this decision haphazardly and often end up leaving graduate school early.
5)  When you have free time, what are your hobbies?
In addition to loving chemistry, I also love theatre and dance, specifically musical theatre and ballet. Chicago offers many opportunities to see wonderful Broadway shows and ballets. I also consider myself to be a novice foodie and Chicago is definitely a great location to hone that skill. If I have time, I also enjoy yoga and pilates as I find them to be good for releasing stress.