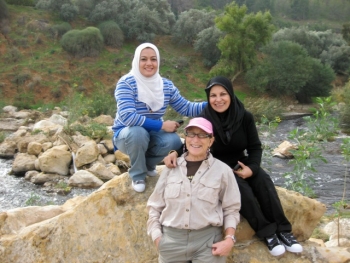 Eileen Vergino, standing, at a water quality workshop she helped lead in Jordan with her colleagues from Iraq.
Eileen Vergino is a Senior Fellow at the Center for Global Security Research at Lawrence Livermore National Laboratory (LLNL), responsible for planning and implementing studies with an emphasis on examining the ways in which technology can enhance international security. Eileen also oversees and initiates international science and technology partnerships designed to further US nonproliferation objectives, including collaborative projects in Russia and the Former Soviet Republics, the Middle East, North Africa and Asia. 
Eileen is the former Director of Education Programs at LLNL, and was responsible for education outreach programs for students and teachers from elementary school through graduate degree programs.  Additionally she served as a science advisor to the US Department of State, providing the State Department with scientific support with the International Science and Technology Center and Science and Technology Center of the Ukraine. For over sixteen years  she worked as a seismologist in the LLNL Treaty Verification Program. Eileen has a degree in Seismology from MIT.
1) What inspired you to work in STEM?
When I was 8 my parents bought my brother a chemistry set. Since I was older (and bigger than he) I "encouraged" (read that as bullied) him into letting me use it. I loved the experiments and most of all coming up with my own. LA public schools had a facility known as the Monlux Science Center which we used to have the opportunity to visit. This was the highlight of my grade school experience and really inspired my interest in science. Then the summer before my senior year in high school I applied to an NSF funded program in astrophysics held in Ojai, CA where we spent the summer observing on the telescope and then calculating the orbit of an asteroid. I was hooked. I was committed to pursuing science and then applied to MIT and the rest is history!
2) What excites you about your work at the Energy Department?
I truly care about the work I do. Having a chance to participate in science that really makes a positive contribution to US national security is what gets me out of bed everyday. I came to the Lab because I have always believed that the work matters. Additionally the international work I do (I travel over 200,000 miles a year) really matters to me. Science is a powerful tool that can contribute to US foreign policy and I am lucky enough to spend a good deal of my time involved in international scientific collaborative projects supporting security. This work is exciting, inspiring and for me personally, truly matters!
3) How can our country engage more women, girls, and other underrepresented groups in STEM?
The key is helping to create a critical mass of women in science, in particular in the physical sciences and engineering. It is hard to recruit and retain women especially in the workplace if there aren't role models and mentors to encourage them along. Flexibility is also key. I have 3 children and it has not been easy pursuing a career, raising a family and keeping a marriage healthy. Having managers who understand that work is not the only priority is critical
4) Do you have tips you'd recommend for someone looking to enter your field of work?
Try and maintain balance. Early in your career this is particularly hard but at the end of the day, your career is only part of who you are. Be sure and pursue other interests and maintain your friendships and family relationships. This however, is easier said than done. Also pursue work you are passionate about, focusing more on the content than on the title you will carry. This has always been a driver for me and has served me well. In the end it is important for me that the work matters to me personally and contributes to society in a positive way. The title I am given for any position I have matters much less. I would definitely encourage those interested in science and security to pursue the work that they are passionate about!
5) When you have free time, what are your hobbies?
I am an avid cyclist and runner. I cycle about 5000 miles per year and run several half-marathons annually as well. I ride a road bike and mountain bike and my husband and I also ride a tandem bicycle. We are both avid scuba divers and take at least one scuba trip annually. I travel extensively and manage to keep up my running when I travel. I also love to hike and play guitar. Finally, my family really matters to me! I have been married for 32 years and our three children are grown now. Our oldest, my daughter, lives in Israel. I have a 23 month old grandson and a second grandchild on the way. Getting to spend time with my grandchildren is one of the most rewarding things in my life.