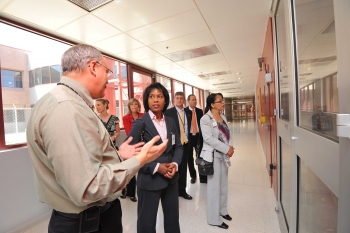 LaDoris (Dot) Harris is the Director of the Office of Economic Impact and Diversity.
LaDoris (Dot) Harris is the Director of the Office of Economic Impact and Diversity. She was nominated by President Obama and confirmed by the U.S. Senate on March 29, 2012. She has served at some of the world's largest firms including General Electric, ABB Service, and Westinghouse Electric Company. Ms. Harris leads the Department's efforts to ensure minorities and historically underrepresented communities participate fully in Departmental programs. Ms. Harris oversees funding for minority institutions, advocates for small business contracting opportunities, and protects civil rights of Departmental employees. Ms. Harris holds a B.S. in Electrical Engineering from the University of South Carolina and a M.S. in Technology Management from Southern Polytechnic State University.
1) What inspired you to work in STEM?
I had been planning on majoring in English when I started college, but that all changed after my sophomore year of High School when my teacher, Ms. Crum, took my class on a field trip to the Savannah River Site. After we traveled there from Denmark, South Carolina, and I heard directly from engineers at the site about their jobs and other job possibilities I knew I was destined for an engineering career. Ms. Crum knew that the trip might have that impact on me and others, and I am forever grateful for her for that influence. I graduated college with 13 job offers in engineering and haven't looked back since.
2) What excites you about your work at the Energy Department?
The ability to help others is the most fulfilling thing about working in the federal government. In my current position, the work I do can help small businesses, Minority Serving Institutions, and communities across America who are seeking access to the Energy Department's resources. I enjoy giving back to students and communities through my work, and working on problems that have national impact.
3) How can our country engage more women, girls, and underrepresented groups in STEM?
To me, engaging more underrepresented individuals in STEM is about helping to instill an interest by showing STEM experiences and the amazing work that happens at the Energy Department. Our national labs, scientists, engineers, and research here are truly valuable, and when we combine these resources with STEM students around the country we can have real force. Energy is an issue that is at the front and center of this country, and we have a responsibility to mine the potential of young people to create a STEM and energy literate citizenry.
4) Do you have any tips you'd recommend for someone looking to enter your field of work?
Make sure you find  your passion in order to truly get engaged – when you find that, your career will feel exciting and not like work. I believe we can engage hearts and minds to achieve exceptional performance, helping to build leaders in the field.
5) When you have free time, what are your hobbies?
I love go-kart racing and fixing karts, in Georgia I have a track behind my house that my children constantly would be playing on. I also like to go on runs with my dog Chaka, a huge German Shepard. When I'm at home I enjoy cooking, especially Southern food. It's fun to create new dishes and try to dazzle others.