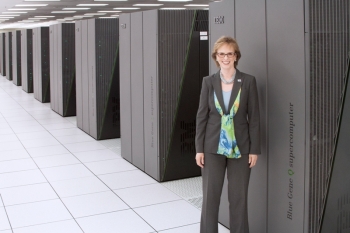 As Associate Director for Computation at Lawrence Livermore National Laboratory, Dona L. Crawford leads the Laboratory's high performance computing efforts.
Check out other profiles in the Women @ Energy series and share your favorites on Pinterest.
As Associate Director for Computation at Lawrence Livermore National Laboratory (LLNL), Dona L. Crawford leads the Laboratory's high performance computing (HPC) efforts. Outside LLNL, Dona serves on advisory committees for the National Research Council and the National Science Foundation. She is co-Chair of the CRDF Global Board, co-Chair of the Council on Competitiveness High Performance Computing Advisory Committee, a member of IBM's Deep Computing Institute's External Advisory Board, and a member of the California Council on Science and Technology. She also participates in community outreach activities to promote math and science. She has a master's degree in operations research from Stanford University and a bachelor's degree in mathematics from the University of Redlands, California. In November 2010, Dona was featured as one of insideHPC's "Rock Stars of HPC," the only woman on this list
1) What inspired you to work in STEM?
I love math. I was not a popular kid growing up, but with math I knew when I had the right answer and that made me feel good. I had always heard I should do something I love, so that's what I did. 
2) What excites you about your work at the Energy Department?
There are eight DOE high performance computers capable of achieving several quadrillion floating-point operations per second. These extraordinary resources are making transformational science possible. Even as we test the limits of today's remarkable computers, we are painfully aware that full simulations still cannot be completed for many problems. For example, we want to understand the chemical evolution of the galaxy and the evolutionary state of a nucleus as it undergoes fission and fusion reactions. We want to add full atmospheric processes to climate models and increase the resolution of climate models to visualize detailed regional impacts of, say, droughts. We want to model cells and organisms and study their evolution at meaningful time and length scales. Knowing that computing helps make progress on these seemingly intractable problems excites me.
3) How can our country engage more women, girls, and other underrepresented groups in STEM?
Starting in elementary school, we need to communicate the exciting parts of what we're doing in a way that connects with aspiring young scientists. Then we need programs to sustain their interest. Sending staff from the national labs to speak at schools is one path; teaching fun, free science demonstrations (i.e., Science on Saturdays) is another; participating in the Expanding Your Horizons Conference a third; offering summer internships yet another.
4) Do you have tips you'd recommend for someone looking to enter your field of work?
Focus! You can do anything you want, just not everything all at once. Make decisions and make the most of them!
5) When you have free time, what are your hobbies?
There is nothing I'd rather be doing than spending time with my family. I have two very successful children who have always been my top priority as well as my greatest joy and source of pride. Additionally, I enjoy traveling and meeting people from other cultures.