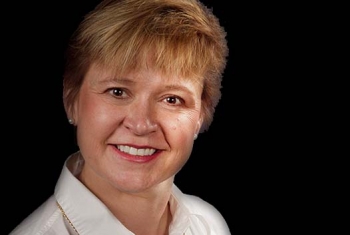 Having monitored environmental compliance for New Mexico State and analyzed water chemistry for a nuclear power plant in Virginia, Los Alamos' Dianne Williams Wilburn is well versed in environmental health and radiation safety.
Check out other profiles in the Women @ Energy series and share your favorites on Pinterest. This feature is cross-posted from Los Alamos National Laboratory's Women Who Inspire series.
Biochemist Dianne Williams Wilburn does not have an ounce of pretense or narcissism. Nominated by multiple Los Alamos National Laboratory colleagues as an inspirational woman, the always-smiling Wilburn deflects attention. When asked about challenges she has overcome, or how courage has touched her life, she does not mention the fact that she recently battled breast cancer. Instead, she focuses on the positive, focuses on the achievements of others.
Wilburn is inspired by women dedicated to learning and to creating their own destinies (such as Madeleine Albright, the former Secretary of State who decided to enter politics when she was nearly 50). Like Albright, Wilburn obtained her graduate degree, a master's in environmental science, well into adulthood.
Wilburn is a glovebox safety manager at the Lab, where she has also managed protection of air quality, endangered species and historic sites on the Lab's 36 square miles. She's mentored more than a dozen students and served as a manager at different levels.
1) What inspired you to work in STEM?
I graduated from N.C State University with a B.S. in Biochemistry. When I was approaching 40, I decided I wanted to further my education. I was working in the Laboratory's Pollution Prevention program. When I looked at the classes for a master's degree in Environmental Science, it was topics I was dealing with daily: air pollution, environmental management systems, etc. I had considered a master's in Public Administration, but one of my managers thought a technical degree was better for my career. If I had it to do over, I would say it would've been easier to go straight from undergrad to grad school. But, you can go back to school; you can get a degree. It may take a while, but if you stick to it, it can be done. Teachers are important as well. I didn't realize how much I liked science until I had Mr. Appleton for high school chemistry and physics.
2) What excites you about your work at the Energy Department?
Los Alamos National Laboratory is a unique and special place. There is a lot of history here and there are a lot of really smart people here and within our Energy Department partnerships. I like to think one of my character traits is to help people get their job done. I like helping people understand the environmental and safety requirements for their work and how they can meet those requirements and still get the job or the experiment done, be an enabler as opposed to an obstructionist. My environmental work hopefully has mitigated environmental impacts from the lab. I would like to think the same for my work in the safety field for the employees.
3) How can our country engage more women, girls and other underrepresented groups in STEM?
Many STEM career paths are dominated by males. Women need mentors, both male and female, to encourage them to pursue STEM career paths. A lot of times someone just needs to be asked, have they ever thought of taking this class or applying to this school or considering a career in this area?
4) Do you have tips you'd recommend for someone looking to enter your field of work?
For an environmental, safety, and health professional there are many degree options: engineering, chemistry, industrial hygiene, environmental science, etc. I tell people that learning the regulatory requirements for one topical area makes it easier to learn another, sort of like learning a language. If you understand the regulations for solid waste it will be easier to then learn the regulations for hazardous waste.  So, constantly learn, make the extra effort and watch for opportunities. You need to have a mentor, someone in a higher position than yourself, to teach you the ropes, to watch for opportunities and to give advice.
5) When you have free time, what are your hobbies?
 I have served on a County Board, chaired a Cub Scout Pack Committee, served as a Boy Scout Merit Badge Counselor, etc. I have always tried to serve in some volunteer capacity. My husband is a car guy and so a couple of times a year, I auto cross with him. My younger son bought chickens a few years ago and then bought a dairy goat. This is something I would have never guessed. As I said to my husband a few weekends back, "Twenty-five years ago when we got married if someone told you we would be riding down I-25 in an old Ford F-150 hauling our new dairy goat, would you have believed it?"  I think you can guess is his answer. Also, if you have a family, there is no one right way to balance things; you have to figure out what works for you. Girlfriends are important, nurture those relationships. If you have a significant other, nurture that relationship. Commitment is hard work.