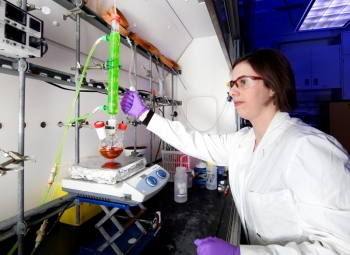 Deanna Pickel is on the Research Staff of the Macromolecular Nanomaterials Group, at Oak Ridge National Laboratory's Center for Nanophase Materials Sciences Division.
Check out other profiles in the Women @ Energy series and share your favorites on Pinterest. 
Deanna Pickel is on the Research Staff of the Macromolecular Nanomaterials Group, at Oak Ridge National Laboratory's Center for Nanophase Materials Sciences Division. She has held this position since 2007, working with users who come to their facilities for their instrumentation and expertise. Previously, she worked as a Research Chemist at Eastman Chemical Company in Tennessee, and completed her Graduate Research Assistant work at the University of Akron's Department of Polymer Science. Deanna earned her B.S. in Chemistry and B.A. in Mathematics from St. Mary's College, and her Ph.D. from the University of Akron. She's an active member of the American Chemical Society and part of their membership committee. In 2012, Deanna received a Significant Event Award from Oak Ridge National Laboratory, and she has published numerous articles, book chapters, and internal technical reports. She holds two patents.
1)  What inspired you to pursue a STEM career?
As far back as I can remember I have always enjoyed science and mathematics, and I was good at it as well.  I had a number of teachers in middle school, high school and college that encouraged me to pursue a career in STEM.  I remember being the only girl chosen to be on the MathCounts Team in middle school, and my teacher encouraging me not to be intimidated by that fact.  In high school, I realized that chemistry was the specific area that I wanted to pursue after taking my first chemistry course, and I knew from my first day in college that I was going to be a chemistry major.  I don't think I knew at that time what it was I wanted to do for a career, but when I realized that it was possible to have a job where I could do research and work in the laboratory was possible, I was sold.
2)  What excites you about working at the Energy Department?
 Working at the Center for Nanophase Materials Sciences I have the opportunity to work with users that come to use our facilities, instrumentation and expertise.  Many of these users are graduate students or post doctoral researchers that are interested in learning more about polymer synthesis and characterization.  I enjoy interacting with these students the most because they have come to the CNMS for our expertise, and they leave with a deeper knowledge about the materials they are interested in.  Many times these students have limited experience in a synthetic chemistry laboratory, and I am able to teach them a number of techniques that they are then able to bring back to their home institutions.
3) How can we engage more women, girls, and other underrepresented groups in STEM?
(Wow, this is a tough question!)  I really think that we need to start engaging girls at an earlier age (middle school) and expose them to variety of career opportunities for STEM professionals.  In general, I think that the public has a very narrow view of what scientists do, and we need to do a better job of bringing to light what we really do.  I have recently been involved in STEM outreach activities in our community in an attempt to demonstrate the diversity of careers that are possible with a STEM degree.
4) What advice do you have for others who are interested in your field?
The most important advice I have for young women interested in any field of STEM is to find an internship, whether at a National Laboratory, academia or industry. The best way to learn about a field is to work with experts in that field.  I did a number of internships prior to deciding I wanted to be a polymer chemist, and many of these opportunities helped me to decide which fields I did not want to work in as well.  The possibilities are truly endless when it comes to choosing a specialty, and the more exposure you have to the variety of possibilities the more informed decision you can make.
5)   When you have free time, what are your hobbies?
 I have a 2-year old daughter, so in my free time I enjoy spending time with her.  When she is sleeping, I enjoy reading, sewing, and knitting.  In the warmer months, I also enjoy hiking in the beautiful Tennessee mountains.