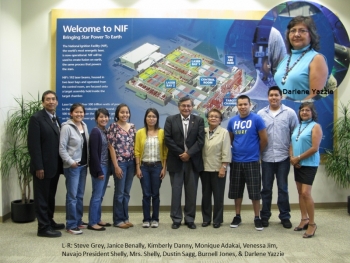 Darlene Yazzie is a Computer Support Technician within the Computations Directorate at the Lawrence Livermore National Laboratory.
Check out other profiles in the Women @ Energy series and share your favorites on Pinterest.
Darlene Yazzie started at Lawrence Livermore National Laboratory (LLNL) in July of 1991 as a switchboard operator. From that work, she advanced to serving as an administrative assistant in various departments. Then early in 2002, Ms. Yazzie was afforded an on-the-job-training opportunity to work with graphics illustration and web development in the present program where she has been since January 2000, and eventually was reclassified in October of 2003 to a Computer Support Technician within the Computations Directorate. 
Throughout the years at LLNL, Ms. Yazzie has supported extra-curricular activities that involve the vast realm of diversity efforts, as well as recruiting efforts, and co-hosting tribal leaders and/or tribal organization visitors at LLNL. Ms. Yazzie has been engaged with LLNL's American Indian Activity Group (AIAG),  LLNL's Diversity Workforce Forum, American Indian Science and Engineering Society (AISES), Society for Advancement of Chicanos and Native Americans in Science (SACNAS), ACM Richard Tapia Celebration of Diversity in Computing, Council of Energy Resource Tribes (CERT), and the National Congress of American Indians (NCAI). 
1)  What inspired you to work in STEM?
Born and raised near Bloomfield, New Mexico, with many chores to do on the family farm, it was difficult to focus on education. Cultural opinion differences (by parents) was another factor where to them education was not that important, as they felt life on the farm can be self-sustaining, and lastly, being a housewife/mother doesn't require any education, as they presumed that was going to be the norm for us children. My parents were close-minded and didn't expect us to be venturing far from our nest. Fortunately, there was a part of me adventurous enough to leave home but not enough to get myself into college. 
After working in various administrative positions at LLNL from 1991 to 2002, I became a computer support technician in 2003 despite not having any formal education. Fortunately for me, LLNL provided me on-the-job training. I am particularly interested in affording opportunities to minorities; I do my best to serve as an advocate for those who need some assistance finding available opportunities such as through programs like STEM.
2) What excites you about your work at the Energy Department?
My present assignment supports national security needs and that is an exciting and wonderful feeling. 
3) How can our country engage more women, girls, and other underrepresented groups in STEM?
I've always felt it's important that any STEM outreach needs to start with students as young as possible. Science and math has to be demonstrated as a "fun" thing with excitement to entice interest in elementary students; this will pique their interest throughout their school years. STEM can help students understand that having a successful career takes hard work and self-determination to persevere and do well in school.
4) Do you have tips you'd recommend for someone looking to enter your field of work?
Ask lots of questions and research the area of interest. Find a mentor or ask someone to be your mentor so that you have guidance. Talk to counselors, seek internships.
5) When you have free time, what are your hobbies?
I was one always busy with the outdoor life–raised on a farm being sun-up to sun-down will do that to you. To this day that is still how I am – love the outdoors and always tinkering in the yard or in the garden staying busy outside when weather permits. Gardening is a favorite of mine; it's a stress reliever, it provides a sense of accomplishment during harvest time, and fresh produce, but mostly I'm connected to nature!