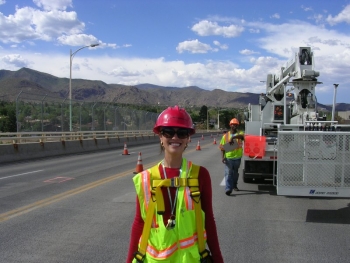 Los Alamos bridge engineer Crystal J. Rodarte-Romero is a proud steward of the historic bridge and is honored to extend its life with design modifications and forthcoming modeling.
Check out other profiles in the Women @ Energy series and share your favorites on Pinterest. This feature is cross-posted from Los Alamos National Laboratory's Women Who Inspire series.
Not long after the Manhattan Project, the Los Alamos Canyon Bridge was erected. The steel arch stretches across a deep canyon that once contained the world's first enriched uranium reactor and is now home to wildlife in its watershed. Today, more than 13,000 people cross this bridge daily by bike, foot or car. And Crystal J. Rodarte-Romero's job is to ensure that the 63-year-old bridge remains safe.
The Lab's bridge engineer, Rodarte-Romero is a proud steward of the historic bridge (largest in the Energy Department's complex), honored to extend its life with design modifications and forthcoming modeling, including examining how the structure can withstand seismic shifts. As part of the Lab's Civil, Structural, and Architectural Team, she helps ensure that buildings, systems, utilities and infrastructure are designed and constructed to be safe.
Not long after high school, Rodarte-Romero began her engineering-degree quest. She knew she loved science, loved to build stuff and was good at math; thus, she said, it was engineering, and she now has a master's degree in it.
Rodarte-Romero volunteers extensively with organizations that promote science, engineering, math and computing education. She also donates her time to nonprofits that feed the hungry. 
1) What inspired you to work in STEM?
As a child I loved to take things apart, study/observe them and try to reassemble them; whether it was a household item, or a piece of equipment, I was truly fascinated by how it worked. My parents would always ask me if I could fix this or that, and not even knowing what it was; my response was always, yes, I can! 
As I got older, I developed a deep appreciation for science, and could get lost in time building stuff out of any materials I would find laying around in the garage. Engineering seemed to be an intuitive choice; as it encompassed all of my desires and included math.
2) What excites you about your work at the Energy Department?
The most gratifying experience of my work at Los Alamos National Lab is taking care of the Los Alamos Canyon Bridge. This beautiful historical structure is a steel arch bridge that connects the town of Los Alamos to LANL technical areas. The structural integrity and safety of the bridge is preserved through annual inspections and maintenance projects for the deck, superstructure and substructure.
The duties of the Los Alamos Canyon Bridge Engineer is critical to the Lab overall. If a safety problem materializes within the design, inspection or functionality of the bridge, the main entrance to the Laboratory from the Los Alamos town could be shut down. This equates to emergency response delays, and vehicular/pedestrian impediments. In addition, the bridge is a fracture-critical structure and its age is in excess of 60 years (with an initial design life of 50 years). 
3) How can our country engage more women, girls and other underrepresented groups in STEM?
I am optimistic, through the various organizations that I volunteer with, that girls are already engaged and immersed in STEM careers. I think our country is at the forefront of inspiring young women and it is admirable. 
4) Do you have tips you'd recommend for someone looking to enter your field of work?
I encourage anyone looking to enter structural engineering or bridge engineering to pursue it with all of your passion. Never give up on your purpose and always stand in your truth. Never look at an engineering task as a pass or fail; but from the mind frame of what do you know and what can you learn. Treat your profession as series of growing opportunities.
5) When you have free time, what are your hobbies? 
In my spare time, I enjoy volunteering with Science Technology Engineering Mathematics (STEM), Mathematics Engineering Science Achievement (MESA), LANL's Annual New Mexico Supercomputing Challenge Expo, LANL's Engineer's Week, career fairs, and the San Martin de Porres Soup Kitchen. 
I love to travel locally and abroad with my husband.