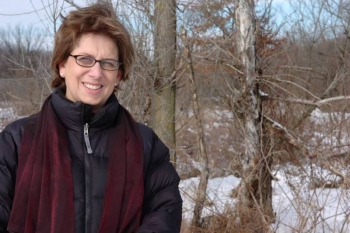 As an agronomist (University of Milan, Italy, 1981), Ms. Cristina Negri leads the phytotechnologies R&D activities at Argonne as an Argonomist.Environmental Engineer at the Process Technology Research Energy Systems Division.
Check out other profiles in the Women @ Energy series and share your favorites on Pinterest. 
As an agronomist (University of Milan, Italy, 1981), Ms. Cristina Negri leads the phytotechnologies R&D activities at Argonne as an Argonomist.Environmental Engineer at the Process Technology Research Energy Systems Division. During her 18-year Argonne appointment, she conducted and directed laboratory to full scale projects developing technologies for environmental remediation and stewardship, and applying them to the sustainable production of lignocellulosic energy crops feedstock. Additionally, Cristina is leads a project aiming at testing technologies to remove mercury from industrial wastewater to attain the ultra-low limits mandated by the Great Lakes Initiative. A member of Argonne's Women in Science and Technology (WIST) Steering Committee since 2005, M. Cristina served also as the Argonne WIST Program Initiator from 2006 to 2009. The WIST PI position is supported by the Laboratory Director to carry out the WIST mission of advancing the representation, advancement and leadership of women at the Laboratory. Prior to Argonne, M.C. Negri worked 10 years in private industry in Italy as R&D manager and liaison with universities and other Italian national research organizations. Research focused on developing methods for the sustainable, beneficial reuse of industrial and urban waste and for pollution mitigation in agriculture. This work was in support of a state-of-the-art, innovative, large facility for the treatment and beneficial recovery of waste products in agriculture.  She also served as the Convener of a CEN (the European Standardization Organization) Working Group, leading experts from European Union Nations towards the creation of European environmental standards for agricultural commodities. 
1 )What inspired you to work in STEM?
The natural world inspired me to work in STEM – I was exposed as a young girl to nature – mountains, woods, and the people who draw their life from them. It was easy for me to pursue an education in Agricultural sciences. From the very start, I knew I wanted a science career with a direct link to solving problems, or applied science.
2 )What excites you about working at the Energy Department?
What makes my day is the opportunity to develop new solutions to pressing problems for the benefit of society across compartments.  For example, I am working on how to make bioenergy crops intrinsically sustainable. That requires that solutions address the need for farmers to stay viable and make a profit, and society's need to have clean water, affordable food and renewable energy. Working to deliver on both is what I like.
3) How can our country engage more women, girls and other underrepresented groups in STEM?
Role models, role models and more role models. They will change the stereotypes that surround women's perceived interests and what is "appropriate" for a woman – there should be more role models readily available that offer young people (women and other underrepresented groups) an opportunity to see themselves in STEM professions.  TV and movies should do more to include women in their shows. We should work more with parents and teachers to let also them know that these are very viable careers for their daughters/students. Also, we need to do more to depict STEM careers as opportunities to make a difference in the world – need to promote STEM as a valuable asset for society.  Another issue is the perceived lower compensation offered by STEM careers compared to other professions, whose promise for better pay may be more attractive to someone who struggles to find the resources for education and needs a better return on their investment.
4) Do you have tips  you'd recommend for someone looking to enter your field of work?
Be flexible and look ahead because the field I am working in field is rapidly changing. Get the basics, solid quantitative skills, take as many opportunities to be exposed to the profession, and be passionate about your work. This field is also necessarily multidisciplinary so learn how to work in teams, expand horizons.
5) When you have free time, what are your hobbies?
Outdoors – even if "just" gardening or a bike ride, and cooking, both with my family.  In the summer, going back to the Alps where my passion for the environment started.