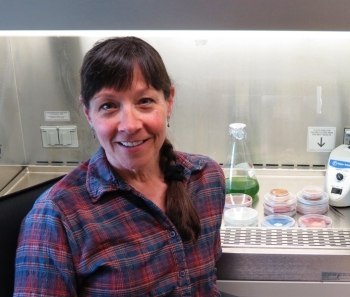 Environmental microbiologist Cheryl Kuske built a world-renowned Los Alamos research program targeting complex microbial communities in the environment.
Check out other profiles in the Women @ Energy series and share your favorites on Pinterest. This feature is cross-posted from Los Alamos National Laboratory's Women Who Inspire series.
The soil beneath our feet may seem inanimate, but it houses trillions of microscopic organisms. Critically important to the ecological system, less than one percent of these organisms have been studied. That is, until pioneering environmental microbiologist Cheryl Kuske built a world-renowned Los Alamos research program targeting complex microbial communities in the environment that has led to major developments.
Kuske launched a new focus on soil metagenomics, revealing the biochemical and genetic interactions of soil microbes in terrestrial ecosystems and increasing knowledge about carbon cycling, climate change and biothreat detection. She is also mining these organisms for novel biochemicals and her work has already led to developments in biodefense and national security, including biothreat detection technologies that can be used in the field.
1) What inspired you to work in STEM?
I have been fascinated by the complexity of the natural world as far back as I can remember. I was fortunate to grow up in coastal North Carolina during a time when the beaches were relatively empty and the estuaries and wetlands were abundant and rich with life. From tadpoles and frogs, to sea cucumbers and starfish, to snakes and alligators, to carnivorous plants - I was able explore them all in canoe and muddy sneakers. I began college in human health but rapidly switched to plant and microbial science, partly because of the enormous diversity and variability of life styles they represent. I have continued an active interest in biological diversity and novel biochemical traits that lead to novel lifestyles. For example, the fungi, bacteria and plants adopt many life forms. Collectively they produce most of our known natural pharmaceuticals, antibiotics and many industrial enzymes. Some fungi are agricultural pathogens that have changed the course of global history numerous times.
2) What excites you about your work at the Energy Department?
The Department of Energy is tasked with solving multiple complex and very big problems– from invention and economical development of new energy sources, to understanding man's impacts on the planet and how best to mitigate or manage these impacts, to design of a vast array of technologies that have significant impact beyond the energy arena. These are big issues that require a high level of teaming and creativity to address. Having the opportunity to work in multi-disciplinary teams with scientists who have very different technical backgrounds is continually inspiring. I enjoy mission-driven science because there is a tangible, significant goal where you can make a contribution that has impact. I have worked most closely with the Biological and Environmental Research Division. Science within this division spans many scales from the molecular and microscopic to the regional and the global.
One of the joys of research is that you are going beyond what is known to discover or design something new or remedy a problem, so no two days are alike and there is very little time for boredom.
As a research fellow at LANL, scientists at the national labs have a critical mission to keep the people and resources in our country safe and productive. The overall driver for my work here is to develop and effectively use the newest technologies (biochemical, information analysis, computational) to fill knowledge gaps that plague our ability to value, understand and manage our natural resources under changing energy needs, land uses and climate—including natural and agricultural lands, water and air.
3) How can our country engage more women, girls, and other underrepresented groups in STEM?
A research career in science and technology at the PhD level is rarely an 8 a.m.-5 p.m. job. It is a way of life. However, there are many ways to participate in science, and many levels of participation that can fit multiple lifestyles. In my generation many women did not go into science or research careers because of social or family expectations, but I see that changing with a broadened acceptance of women in science and shared responsibilities for children/home life.
More exposure of children to the fascination of science in elementary school—high school, and through summer programs can instill a passion for science/technology. Providing short-term opportunities for hands-on experience for students of all ages can lower the threshold for the next generation to realize 'they can do this too'. I try to be a good example because it's your actions— not your words—that youth will follow, and I hire young people into my program to expose them to the joys and realities of research.
4) Do you have tips you'd recommend for someone looking to enter your field of work?
Taking time to look for opportunities and programs via the Internet, email and conversations is an easy way to explore potential careers in science and technology. Look broadly, not just in your own back yard. The U.S. is large, different regions hold different opportunities and opportunities exist worldwide. When you are offered an opportunity, try it—even if you are not sure it's exactly what or where you thought you wanted.
Be brave - sometimes you just have to 'jump into the deep end of the pool'. You are definitely going to lose many times, but if you are tenacious and flexible you can make good things happen. Don't be afraid to make inquiries.
Be respectful of diversity – this includes others' opinions, heritage and background, as well as their scientific research area. These 'edges' between different scientific disciplines are where new ideas become realities.
5) When you have free time, what are your hobbies?
I need to be outdoors. I feel extremely fortunate to be able to live in the mountains. I have always been a hiker, canoeist and cyclist. Before we started a family, I was also a whitewater kayaker. Our two children, who are now teens, continue to be focal point of my non-science life, and our family likes to hike, ski and bicycle.