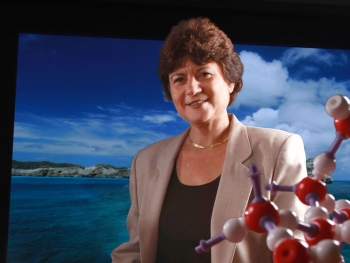 As the director of Pacific Northwest National Laboratory's Atmospheric Sciences and Global Change Division, Dr. Charlette Geffen leads scientists in comprehending the atmospheric processes that drive regional and global earth systems.
Check out other profiles in the Women @ Energy series and share your favorites on Pinterest. 
The opportunity to make a difference through the design and implementation of sustainable systems led Dr. Charlette Geffen to a career in science and engineering. Her research and teaching experience is devoted to understanding energy, environment and technology policy issues, with a particular focus on the dynamics of integrated systems. Her doctoral research at the Massachusetts Institute of Technology in industrial ecology and technology management linked her background in energy efficiency and environmental strategy to product innovation. As the director of the Atmospheric Sciences and Global Change Division at the Pacific Northwest National Laboratory, she leads a division of scientists to understand the atmospheric processes that drive regional and global earth systems. They address this challenge by focusing on climate, aerosols and cloud physics; global- and regional-scale modeling; integrated assessment; and regional meteorology and chemistry. Because nearly all energy-related emissions enter the atmosphere, research on atmospheric processes and their impacts across temporal and geographic scales is vital to understanding the economic and environmental consequences of those emissions, and the potential value of new energy technologies. This work supports the U.S. Department of Energy's mission to ensure a national, sustainable energy system. She is active in the American Geophysical Union, the AAAS, and the International Association for the Management of Technology. At Washington State University, she teaches and advises graduate students in technology strategy and management. She earned a Ph.D. in Technology Management and Planning/Civil and Environmental Engineering. She received an M.B.A. from the University of Washington and a bachelor's degree in civil engineering from Stanford University.
1) What inspired you to work in STEM­­?
I had always taken classes in science and math, but planned on being a liberal arts/journalism major when I went to Stanford. An introductory class in civil engineering changed my mind and my career path. Engineering provided the opportunity to impact society with exciting new technologies that also preserved and supported our natural environment. A problem solver by nature, I discovered that a science and engineering background opened the door to addressing a wide variety of technical and societal challenges. In today's environment, that basic STEM understanding is more important than ever, for a whole variety of fields.  
2) What excites you about your work at the Energy Department?
I am delighted to be supporting research that is transforming the nation's ability to predict climate change and its impacts with an integrated team that links measurements to models to insight. Only at a national laboratory would I have the opportunity to build an integrated team, working across disciplines to combine laboratory research, field measurements and observations with process, regional and global climate modeling. Our collaborative enterprise is improving scientific understanding of how atmospheric processes and energy technology choices affect greenhouse gas emissions and their consequences. Our goal is to provide new insights that help leaders manage risks and cope with climate impacts while meeting society's energy demands.
3) How can our country engage more women, girls, and other underrepresented groups in STEM?
For students beginning their exposure to science and engineering, it is critical to provide more support and opportunities to engage with role models at the middle school level. It can make a big difference to teach science and engineering with hands-on, practical experiences that bring out the fun in our work. My volunteer activities have focused on building extracurricular science activities at the middle school levels, and it is exciting to see the projects these students create. Helping students understand the breadth of potential career opportunities is also important. The other area of focus needs to be on expanding the career opportunities for senior scientific leaders, to retain senior leaders in the research environment.  
4) Do you have tips you'd recommend for someone looking to enter your field of work?
Build a strong foundation in the science or engineering discipline of your choice, and add to those skills in both oral and written communication. Find mentors you enjoy working with, who are in positions to which you aspire. Learn as much as you can from everyone you work with – the building blocks of a successful career will include your science or engineering skills, communications, project management, teamwork capabilities and leadership skills – and be willing to share that knowledge with others who come after you!
5) When you have free time, what are your hobbies?
I enjoy spending time with my family and participating in outdoor activities, such as boating, biking and hanging out at the beach!