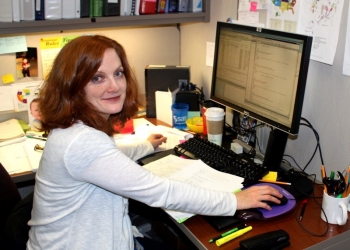 Carrie Milton is an operations research analyst for the Office of Electricity, Coal, Nuclear, and Renewables Analysis at the U.S. Energy Information Administration.
Check out other profiles in the Women @ Energy series and share your favorites on Pinterest. 
Carrie Milton is an operations research analyst for the Office of Electricity, Coal, Nuclear, and Renewables Analysis at the U.S. Energy Information Administration.  Her work involves incorporating collected data from multiple sources into the National Energy Modeling System (NEMS) for the Annual Energy Outlook, analyzing electric power data, and following market trends.  Prior to working at EIA, Carrie served in the U.S. Navy for six years, four of which she spent on an aircraft carrier as a nuclear propulsion plant operator.  While completing her college degree, she managed her own business providing real estate virtual tours for local real estate agents in the Washington, DC area.  She obtained a Bachelor's in Managerial Economics and an M.A. in Economics from George Mason University in Fairfax, Virginia.
1) What inspired you to work in STEM?
I have always been very interested in how the world works, both in a physical sense and in a social sense.  When I was young, my favorite subjects were math, biology, and physics.  I started as an engineering student in college, and then joined the Navy to work in a nuclear propulsion plant on an aircraft carrier.  The experience there was invaluable.  After graduating with a Master's in Economics, I wanted to combine the operational engineering experience that I had gained in the Navy with my economics education for my work, and I have been able to do that as an Electricity Analyst at the Energy Information Administration (EIA).
2) What excites you about your work at the Energy Department?
I love working in my field, studying the underlying economic drivers of electricity markets and translating that into energy models.  The electric power industry has seen tremendous changes in the past decade, and working on a team whose job it is to incorporate this information into models that forecast supply and demand curves is challenging and exciting.  It's rewarding to know that the end products that my team generates are valuable to both public and private entities.
3) How can our country engage more women, girls, and other underrepresented groups in STEM?
One way that we can do this as a country is to appoint more women in high-level STEM positions, where they can be visible to young women who are trying to determine what path to follow for their careers.  Female role models who are making valuable contributions to science and technology will encourage young women to pursue work in those fields, because as women are in higher positions of power and visibility in STEM, younger women will realize that the possibilities of where you can go are limitless.
4) Do you have tips you'd recommend for someone looking to enter your field of work?
For someone who is looking to enter my particular field of work, I would recommend learning computer languages and programming, in addition to economic theory and optimization.  Knowing what type of analysis to conduct is very important, but equally important is having the skills readily available to utilize the software tools that exist to implement analyses. 
5) When you have free time, what are your hobbies?
In my free time, I love to garden, try new recipes, read, and spend time with my husband and children.  Being a mother to two wonderful boys is my favorite thing of all, although it's technically not a hobby.