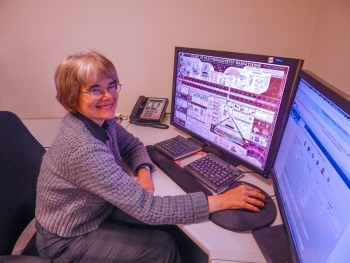 Carolyn Albiston is a computer scientist at Lawrence Livermore National Laboratory (LLNL).
Check out other profiles in the Women @ Energy series and share your favorites on Pinterest.
Carolyn Albiston is a computer scientist at Lawrence Livermore National Laboratory (LLNL).  She develops the full stack of web application software supporting science, technology and stockpile stewardship. She has successfully participated in all five software development competitions that have been held at LLNL, using them to extend her expertise into new technologies, to exercise her leadership and public speaking abilities and to build a network of working relationships. Earlier in her career, Carolyn worked in the software industry, designing and implementing network protocols, enterprise network device messaging software, relational database server utilities and earned-value management web applications.  She has led small teams and negotiated with sponsors. She was an early adopter of enterprise Java and is learning Scala. She received a BS cum laude in Chemistry from Yale, an MS in Nuclear Chemistry from U. C. Berkeley and an MS in Computer Science as a Chevron Technology Scholar at CSU in 2011.
1) What inspired you to work in STEM?
I always wanted to figure out how things were put together when I was growing up. I was interested in sharks, mushrooms, how colors of light and colors of paint combine differently, how to cut glass, cryogenics and special relativity. I made the decision in college to follow a STEM career because I could always indulge my many other interests as hobbies, but that having a scientific lab or supercomputer at home would be difficult. 
2) What excites you about your work?
I love problem solving and thinking of novel approaches to apparently difficult problems. I enjoy immersing myself in another world, one of computers and programming, which has its own rules and culture, then sharing what I learn collaboratively with others to accomplish tasks in small teams.
3) How can our country engage more women, girls and other underrepresented groups in STEM?
Go where girls and women are now and start with their current interests. The Girl Scouts and Girls Inc. sponsor all-girl lego and robotics teams, and code academies and Meetups seem to be especially popular with women.
Both men and women can offer to mentor specific girls and women that they know.
4) Do you have tips you'd recommend for someone looking to enter your field of work?
Don't give up when subjects in school are hard, especially math -- taking the class will give yourself a far wider range of possibilities in life. Women have historically excelled at professions like nursing and K-12 teaching which require science and math, but that is only a start. 
Promote yourself and your accomplishments. Ask someone specific to be your mentor, male or female.  You can have more than one for different purposes. Most people are flattered to be asked.
5) When you have free time, what are your hobbies?
I have a special interest in women composers of classical music, especially new music.  I also sing, play the piano, compose contra dance tunes, dance, hike and swim.