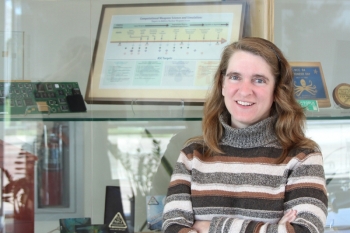 Dr. Carol Woodward is a computational scientist in the Center for Applied Scientific Computing (CASC) at Lawrence Livermore National Laboratory (LLNL) where she has also served as a Group Leader and Postdoctoral Program Manager.
Check out other profiles in the Women @ Energy series and share your favorites on Pinterest.
Dr. Carol Woodward is a computational scientist in the Center for Applied Scientific Computing (CASC) at Lawrence Livermore National Laboratory (LLNL) where she has also served as a Group Leader and Postdoctoral Program Manager.  She is a member of the Society of Industrial and Applied Mathematics (SIAM) Council and has held offices in the SIAM activity groups on Geosciences and Computational Science and Engineering.  Dr. Woodward serves on the editorial boards for the SIAM Journal on Scientific Computing, Advances in Water Resources, and ACM Transactions on Mathematical Software and has served on numerous organizing committees for national and international meetings.  Her research interests include numerical methods for nonlinear partial differential equations, nonlinear and linear solvers, time integration methods, verification of scientific codes, and parallel computing.
Dr. Woodward has been a computational scientist with CASC at LLNL since June 1996. Prior to that time, she attended Rice University where she received her PhD in Computational Science, and Engineering. Prior to graduate school, Dr. Woodward attended Louisiana State University where she graduated with a B.S. in Mathematics. She completed high school at the Louisiana School for Math, Science and Arts, a two year residential high school that emphasizes advanced study in mathematics, sciences, humanities, and arts.
1) What inspired you to work in STEM?
When I was little, my dad was always showing me interesting things to do with numbers.  When I was 5 or 6, he told me there is no largest number, so I took a piece a paper and wrote a 1 on it followed by as many zeroes as I could fit on it.  He said that still wasn't the largest number.  I must have filled ten pages with zeroes before realizing what he meant about there not being a largest number. He would always ask what I was doing in math class and then point out interesting facts or ways of looking at the problem. These comments always made me feel smart about math and kept me interested in it.  When I got older, I started really enjoying science. I liked the challenge of figuring something out and the satisfaction I would get once I realized how everything fit together. As a result, it seemed natural to combine my love of mathematics and my interest in science and go into applied mathematics.
2) What excites you about your work at the Energy Department?
I work with scientists who are investigating various physical phenomena through simulations.  My job is to work with them to improve accuracy and speed of the mathematical methods they use to solve their models on Department of Energy supercomputers.  As a result, I work on very challenging problems which keeps things exciting. Another thing I like is that my job changes. Since I work with many different scientists, I have variety in the applications I work in. Right now, I work in climate, materials science, and power grid simulation. But, I've also worked in fusion, astrophysics, hydrology, and other areas. This ensures that even though I have been in the same job for many years, I still have new and interesting things happening. I also have the opportunity to meet new people.
But, the coolest thing about my job is that I get to work with some of the smartest people on the planet.  My coworkers at LLNL and colleagues at other labs and universities are some of the brightest people from their countries, foreign and US. I love the chance to interact with people who challenge my thinking and bring out new perspectives.      
3) How can our country engage more women, girls, and other underrepresented groups in STEM?
I think encouraging interest in science and technology at a very early age is critical.  When a child believes they are good at something they don't hold back on it.  We need to further sustain the interest into upper grades and college through extra-curricular projects and events and through courses accessible to more than just the "top" students.  Overall, I think one of the most effective ways to engage more women and underrepresented groups in STEM is one-on-one encouragement at all ages. 
4) Do you have tips you'd recommend for someone looking to enter your field of work?
A key skill of an applied mathematician working at a Department of Energy laboratory is to be able to interact with technical people from different scientific disciplines and know how to ask the right questions to get at the heart of the mathematical issues in their models. This skill comes with practice and with learning to listen carefully.  So, besides working hard and getting an understanding of as much numerical analysis as possible, I recommend someone coming into the field to learn effective communication skills.
I also recommend students to take internships to see applied mathematics in the work place and not just in books.  Many labs and companies have summer internships available, and making the effort to try something new almost always leads to interesting experiences.
Most of all, though, I recommend following your curiosity and passion.
5) When you have free time, what are your hobbies?
I spend time with my family and enjoy being a Mom.  I also participate in endurance sports, including triathlon, and I play classical guitar.