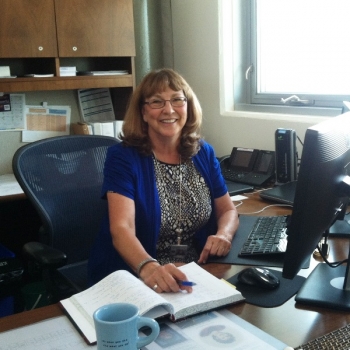 Barbara Goodman is the Associate Laboratory Director, Mechanical and Thermal Systems Engineering at the National Renewable Energy Laboratory.
Check out other profiles in the Women @ Energy series and share your favorites on Pinterest.
Barbara Goodman is the Associate Laboratory Director, Mechanical and Thermal Systems Engineering at the National Renewable Energy Laboratory overseeing NREL's research on advanced transportation technologies, residential and commercial buildings, concentrating solar power, and wind energy.  Research in these areas totals approximately $100M annually and includes nearly 400 engineers and scientists.Before coming to NREL in 1984, Ms. Goodman spent two years as a teaching assistant in mathematics at the Colorado School of Mines and in anthropology at the Community College of Denver.  She also worked as a chemical clean-up specialist for the Colorado School of Mines Research Institute.  At NREL Ms Goodman oversaw the design of the Alternative Fuels User Facility, developed a new research effort in lactic acid, drafted a comprehensive plan on municipal solid waste, and established the Renewable Fuels and Lubricants Laboratory.
Ms. Goodman holds a B.S. in Chemical and Petroleum Refining Engineering from the Colorado School of Mines.  She has published numerous technical papers and presentations in various technical fields, including anaerobic digestion, municipal solid waste, ethanol, and alternative fuels utilization, and advanced transportation.
1) What inspired you to work in STEM?
Since an early age I have enjoyed anything mathematical and been fascinated by science; two areas that led me to believe a career in engineering might make sense.  Having some excellent teachers in both subjects encouraged me to work hard and want to learn more.  Engineering has allowed me to work in a variety of different fields including biomass, hydrogen, vehicles, buildings and wind while doing hands-on research, project management, analysis, and people management.  When I entered the engineering field, I had no idea how limitless the opportunities would be over the course of my career.
2) What excites you about your work at the Energy Department?
The mission of the National Renewable Energy Laboratory (NREL) is to develop renewable energy and energy efficiency technologies and practices, advance related science and engineering, and transfer knowledge and innovations to address the nation's energy and environmental goals.  Working at NREL for nearly 30 years has given me the opportunity to make an impact in ways that will leave a better planet for my children and grandchildren.  The people I have worked with at NREL, other national laboratories, and DOE have been exceptional.  I've been able to face exciting challenges every day and no two days are ever the same.  When I interview people and tell them how long I've worked here, I tell them that if I had written a job description 30 years ago I couldn't have come up with anything better than what I do today!
3) How can our country engage more women, girls, and other underrepresented groups in STEM?
In order to captivate the imagination and curiosity of underrepresented groups, we need convince them at an early age that math and science are fun.  We should engage them in hands-on opportunities that are creative and imaginative.  They need to be given opportunities to solve problems and have mentors that will keep them on track to want to learn more in STEM.  We also need to recognize excellent teachers and ensure that they are paid well so they will continue to pursue their careers in these fields.
4) Do you have tips you'd recommend for someone looking to enter your field of work?
Work hard, keep an open mind to where your path may lead, and find something that engages your passion.  If you do that, you'll never feel like your job is work.  Also, remember to maintain balance in your life.  Make time for family and friends – they will be there to see you through difficult times and when your career is done.
5) When you have free time, what are your hobbies?
I enjoy quilting, gardening, running, biking, hiking, cooking, yoga, reading and time with family and friends.