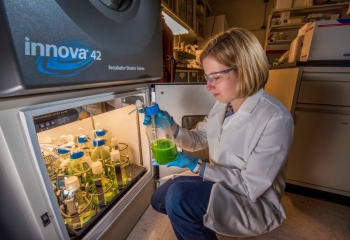 Anne Ruffing works at Sandia National Laboratories as a Senior Member of the Technical Staff in the Department of Bioenergy and Defense Technologies. Photo by Randy Montoya, Sandia National Laboratories.
Check out other profiles in the Women @ Energy series and share your favorites on Pinterest.
Anne Ruffing recently joined Sandia National Laboratories as a Senior Member of the Technical Staff in the Department of Bioenergy and Defense Technologies. Prior to this, Anne was a Truman Fellow at Sandia, serving as principal investigator of a project investigating cyanobacterial biofuels. Anne's research interests include biofuel production from photosynthetic microorganisms, metabolic engineering, bioinformatics, and microbial polysaccharide synthesis. Anne received a Bachelor of Chemical Engineering from the University of Dayton in 2004 and a Ph.D in Chemical Engineering from the Georgia Institute of Technology in 2010. Anne is the recipient of several awards, including the President Harry S. Truman Fellowship in National Security Science and Engineering, National Science Foundation Graduate Fellowship, and the Philanthropic Education Organization (P.E.O.) Scholar Award.
1) What inspired you to work in STEM?
I come from a family of accountants (seriously, 3 other siblings, my father, and 2 uncles, all accountants); so I suppose I'm going against my genetics by being a chemical engineer. But science, like accounting, is governed by logical rules. I have always been drawn to the fundamental logic of basic scientific principles and have enjoyed problem solving. The path to my career in metabolic engineering is a mixture of fate and good mentorship. During my undergraduate studies in chemical engineering, I became interested in the developing field of biotechnology, filling my electives with courses in bioengineering and basic biology and biochemistry. I am indebted to my undergraduate advisor, Dr. Tony Saliba, who encouraged me to apply to graduate school programs. From there, my graduate advisor, Dr. Rachel Chen, introduced me to the field of metabolic engineering.
2) What excites you about your work at the Energy Department?
Very few people can say that their work may help to 'save the world' one day. Renewable energy may do just that, providing the world with a sustainable future and helping to mitigate the anthropogenic impact on the Earth. I think that's pretty cool. In addition, I get to do something new nearly every day, and I interact with talented people across a range of disciplines.
3) How can our country engage more women, girls, and other underrepresented groups in STEM?
The integration of STEM into early education and development programs is key. While traditional educational subjects provide the foundation for STEM, many of the engineering and technology career paths are not discussed. Therefore, extracurricular opportunities such as career shadowing, career days, science and mathematics clubs, and science and engineering competitions and camps are essential for communicating these career options to women, girls, and underrepresented groups. Mentoring and community outreach programs are supported by the national labs, providing additional opportunities to encourage careers in STEM.
Media outlets can also be used to promote an interest in STEM. Recent publicity surrounding news events, such as NASA's landing of the Mars rover and Felix Baumgartner's Red Bull Stratos jump, help to promote interest in science and technology. Other cultural influences, such as the popular television show 'The Big Bang Theory', improve the public's perception of scientists. Social media outlets (Facebook, Twitter, YouTube, etc.) are also being used to promote scientific interests. These efforts are making science 'cool' and more appealing to younger generations.
4) Do you have tips you'd recommend for someone looking to enter your field of work?
If you're interested in biotechnology (or any STEM field), I have two pieces of advice: 1) get some experience and 2) find a mentor. It is very difficult to know if you'll enjoy something unless you actually try it. For this reason alone, it is good to have some experience in a field before committing to it. As an added benefit, future employers will often be looking to hire someone with experience; even if you only have an internship, this may help to differentiate you from other applicants. During this experience, you will hopefully find a mentor. There's a lot of truth to the saying that 'hindsight is 20/20'. If you can get advice from an experienced mentor, you can avoid some major setbacks in pursuing your career path. This mentor may also be useful as a reference when applying for jobs in the future.
5) When you have free time, what are your hobbies?
After a long day at work, I like to go for a run. It helps to relieve stress and clear my head. I also participate in a volleyball league sponsored by Sandia. If I have time on the weekend, I enjoy doing some artwork, mostly drawings, and more recently, I've been learning photography.