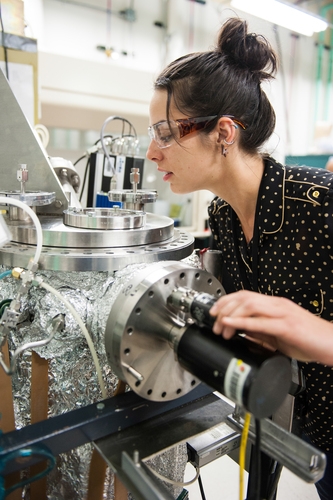 Angela Fioretti is a Joint Ph.D student at the National Renewable Energy Laboratory in Golden, Colorado, focusing on photovoltaic materials research.
Check out other profiles in the Women @ Energy series and share your favorites on Pinterest.
Angela Fioretti is a Joint Ph.D student at the National Renewable Energy Laboratory in Golden, Colorado, focusing on photovoltaic materials research.  She was previously an intern at NREL, after finishing her time as a Thornton Undergraduate Research Scholar at Western State Colorado University and an internship at Lawrence Berkeley National Laboratory. Angela is working torwards her Ph.D. in materials science from Colorado School of Mines and she has earned a bachelors of arts in chemistry from Western State College.
1) What inspired you to work in STEM?
I was inspired to work in STEM because I wanted to change the world, and I felt that scientific research stood a better chance of making a lasting impact than politics. As a native to Colorado, I grew up with the mountains in my backyard, and a love of nature was deep-rooted in my psyche from a young age. I also grew up during a time when the modern environmental movement was gathering steam, and when real concerns over global climate change and human degradation of the environment were coming to the fore. I wanted desperately to be a part of the solution to these problems in any way I could. It wasn't until my freshman year in college, when my intro biology professor (a woman, by the way) made a speech on the first day of class about how, if we truly want to make a difference in the world, a career in science was a surefire way to do it. I was hooked from that moment on. It was a few more years before I figured out which part of science I wanted to pursue, but to this day my motivation comes from a passionate desire to protect the environment.
2) What excites you about your work at the Energy Department?
I work in the field of materials science, focused specifically on photovoltaic materials research. What excites me about my work is knowing that every day I come into the lab, I am making a difference. I am thrilled to see the rapid and dramatic changes to our energy landscape that have taken place in such a short time, and it is even more exciting to know that solar energy is a real contender in our current energy market. The tide is turning, and I am a part of that. It's exciting to think that 50 years from now, my grandchildren will look back on our coal-fired, petroleum-fueled existence as a distant and rather primitive time in our history. I'm incredibly proud to play my small role in such an important paradigm shift.
3) How can our country engage more women, girls, and other underrepresented groups in STEM?
The number one thing we can do to engage more women, girls, and other underrepresented groups in STEM is to reformat our entry-level college courses in STEM to make them more accessible to a demographic that typically comes with far higher self-doubt than your typical physics undergrad. These courses need to feel friendly, not scary. We need to be creative in our course planning, and one example that comes to mind is from Harvey Mudd College in southern California. All freshmen are required to take intro computer science, but their institution has divided the course into two sections: one section for those students with some experience in the topic that spans one semester, and another section for those students with no prior experience that spans two semesters. This course structure is then backed by an administrative push to encourage young women to pursue computer science degrees. This clever format has resulted in roughly 50% of Harvey Mudd's computer science majors being women, far higher than the national average. Schools across the country could learn from this example, and draw into STEM far more young women and other underrepresented young students from the very beginning.
4) Do you have tips you'd recommend for someone looking to enter your field of work?
Make sure to take courses in programming, electrical engineering, and inorganic chemistry, even if these courses are outside of your major. Materials science is very interdisciplinary, and many of my colleagues come from diverse backgrounds, so no one major will be able to cover all the facets of this field. The best way to prepare yourself for working in materials research is to take advantage of intro courses outside of your major that will fill any gaps before you leave school for your next institution.
5) When you have free time, what are your hobbies?
I love to garden! I also love to go trout fishing and hiking and camping. I'm all about sustainability and self-reliance, so I'm always trying to learn new ways of growing, catching, preparing and preserving food, too.