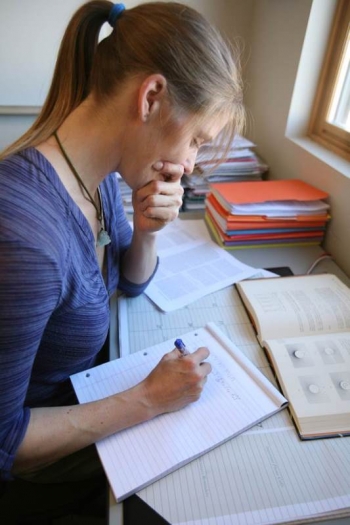 Los Alamos mathematician Amy Bauer's research has always focused on protecting people, whether from cancer, HIV or nuclear terrorism. She works on a broad range of nuclear counterterrorism projects, including post-detonation nuclear forensics.
Check out other profiles in the Women @ Energy series and share your favorites on Pinterest. This feature is cross-posted from Los Alamos National Laboratory's Women Who Inspire series.
Always seeking challenges, Los Alamos National Laboratory researcher Amy Bauer faces her fears with aplomb. The Chicago native loves mountaineering, rock climbing, ski patrolling, scuba diving, skydiving and formula auto racing.
After receiving her doctorate in math, she joined Los Alamos as a graduate student focused on biology and developed a mathematical model that supports combating cancer by starving a tumor of its blood flow and rendering it harmless.
Nuclear weapons systems, like biological systems, are highly complex at the molecular scales. So Bauer was recruited by the Lab's Improvised and Foreign Designs Group to apply her molecular-modeling expertize to nuclear weapons' materials to support a broad range of nuclear counterterrorism projects.
1) What inspired you to work in STEM?
I studied finance and math in grad school, and I believed that math could take me anywhere I wanted to go; I still believe that. I want to work on and solve high-impact problems.
2) What excites you about your work at the Energy Department?
My research has always focused on protecting people, whether from cancer, HIV or nuclear terrorism. Currently, my colleagues and I are helping refine our understanding of foreign nuclear weapon technology. As our nation moves toward a smaller stockpile, the necessity for the types of alternative strategies becomes an increasing piece of a credible deterrent, supporting national security and promoting peace worldwide.
3) How can our country engage more women, girls and other underrepresented groups in STEM?
I do hope that the world continues to become more gender equitable and that my two daughters have the opportunity to make a difference and the character to navigate that opportunity.
4) Do you have tips you'd recommend for someone looking to enter your field of work?
Do something you are passionate about. Don't wait for your opportunities; position yourself opportunistically and create them! Develop and adhere to a strong work ethic. Think for yourself. Listen and be heard. Find a way to do what's right, even if it is an unpopular thing.
I think it is important for people to face their fears; don't let what I they can't do stop them from doing what they can. Adhere to strong personal and scientific ethics and help others achieve their goals.           
5) When you have free time, what are your hobbies?
I acquired many of my hobbies in adulthood. I learned to ski just a few years ago, and I'm now a National Ski Patrol member and avalanche safety instructor, rock climber, racecar driver and scuba diver and skydiver. I chair an annual event that raises money for women and men in New Mexico diagnosed with breast or cervical cancers.