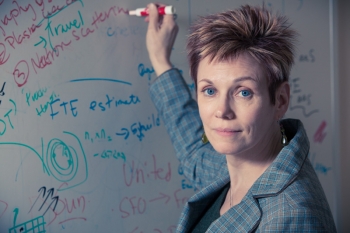 Amber Boehnlein is a physicist and heads scientific-computing applications in SLAC's Particle Physics and Astrophysics directorate.
Check out other profiles in the Women @ Energy series and share your favorites on Pinterest. 
Amber Boehnlein is a physicist and heads scientific-computing applications in SLAC's Particle Physics and Astrophysics directorate. Boehnlein's responsibilities are twofold—managing the groups that run the scientific computing systems, and working with the Scientific Computing Steering Committee to coordinate use of those systems. Amber also manages SLAC's strategy to address broader scientific computing issues. Amber has a wealth of experience in scientific computing and high-energy physics. A long-time member of the DZero collaboration and staff scientist at Fermi National Accelerator Laboratory, she paid her programming dues as a postdoc working on the high-level trigger for the DZero proton-antiproton colliding experiment at the Tevatron, Fermilab's giant collider. She began her work at Fermilab in 1993.
1)      What inspired you to work in STEM?
Seeds planted early and cultivated well tend to bear fruit.  My grandparents lived next to Roger Bacon High School in St. Bernard, Ohio which led to an amusing case of hero worship. As a very young girl, I wanted to be a Franciscan friar and study nature using the scientific method, just like Roger Bacon!  While my parents encouraged me to think I could be anything I wanted to be, little did I understand that half of my early ambition was simply not feasible. Still, it was wonderful to be introduced to the basic concepts of scientific investigation at such an early age that I don't remember learning them.  I loved to make hypotheses and test them out. In addition, my grandmother was a math whiz who loved to play games with numbers and she enjoyed having an apt pupil.
2)      What excites you about your work at the Energy Department?
 It excites me to go work every single day and learn something new.
3) How can our country engage more women, girls, and other underrepresented groups in STEM?
Engaging people to pursue STEM professions, especially women and underrepresented groups is complex and yet doing so is in the national interest as well as being rewarding for the individuals.   At the national level, it would be helpful to have a dialog about making policy decisions that have a grounding in factual information. Certainly the world is a complicated place and hearing many well reasoned points of view make for a richness of intellectual debate. However, it sends mixed messages to young people to encourage them to explore the STEM professions while debates of key issues of national and global importance are framed in ways that deny the validity of scientific investigation and conclusions.
4) Do you have tips you'd recommend for someone looking to enter your field of work?
Everyone, if they want to enter a STEM field or not, should take time every single day to indulge in curiosity. Cultivate a beginner's mind and try to see the world through fresh eyes. Ask questions and think about the answers. Ask more questions. This will lead you to your passion.
5) When you have free time, what are your hobbies?
My hobbies are hiking, quilting and knitting.