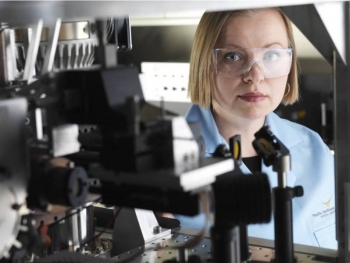 Growing up in the Ukraine, the daughter of secondary physics and math teachers, Dr. Alla Zelenyuk enjoyed math and science at a young age.
Check out other profiles in the Women @ Energy series and share your favorites on Pinterest. 
Growing up in the Ukraine, the daughter of secondary physics and math teachers, Dr. Alla Zelenyuk enjoyed math and science at a young age. She earned her doctoral degree in chemical physics and her master's degree in applied physics and mathematics at the Moscow Institute of Physics and Technology. As the fall of the Soviet Union made doing research difficult for scientists, Alla immigrated to the United States. She did a postdoctoral assignment at the University of North Carolina at Chapel Hill. She worked at Brookhaven National Laboratory and eventually moved to Pacific Northwest National Laboratory. At PNNL, she conducts outstanding research into the properties and behavior of aerosol particles. She has routinely disproven the conventional wisdom regarding the fundamental properties and evolution of climatically important atmospheric particles. One key to her research is her invention, SPLAT II, a single particle mass spectrometer. With SPLAT II, Alla is changing what scientists know about the characteristics of small particles, which are ubiquitous across scientific disciplines. She developed methods to measure simultaneously concentration, size, composition, density, morphology, fractal dimension, and hygroscopic properties of individual particles as small as 50 nanometers with high sensitivity and precision. Recently, Alla has redesigned the instrument to fit in research aircraft to collect real-time data on atmospheric aerosol particles. In another project, she is characterizing the properties of exhaust particles produced by pre-commercial, high-efficiency new generation engines with unprecedented precision and detail. As the inventor of SPLAT II, which is available free-of-charge through a peer-reviewed user proposal process at DOE's EMSL, a scientific user facility, Alla mentors scientists on how to best use the instrument to get the information they are after. She also works with postdoctoral fellows, providing them with opportunities to develop and test new ideas.
1) What inspired you to work in STEM?
Growing up in with a math and physics teachers, I have always had an interest in solving analytical problems. As I matured in science, I found myself drawn to tackle the fundamental aspects of physical and chemical chemistry that have important implications in wider fields.
2) What excites you about your work at the Energy Department?
Working at the Energy Department offers an ideal environment for me. Being associated with the Basic Energy Sciences program offers the opportunity to develop state-of-the-art analytical instrumentation and apply these instruments to address fundamental scientific problems. Having collaborators at the Atmospheric Sciences and Global Change division in PNNL provides me the opportunity to apply my unique tools and fundamental knowledge to practical problems with global implications.
Similarly, my association with the Energy Processes and Materials Division at PNNL made it possible to be actively involved in the projects related to biofuel production, and characterization and development of new generation fuel-efficient engines. Being part of EMSL creates opportunities to develop collaborations with scientists from all over the world and to work on a wide range of interesting problems.
3) How can our country engage more women, girls, and other underrepresented groups in STEM?
Hands-on experiences have always been important to me. We should offer fellowships that engage high school and early undergraduate students in actual research programs, for sufficiently long periods to assure that accomplishments are achieved.
4) Do you have tips you'd recommend for someone looking to enter your field of work?
It is essential to have an open mind and think independently. Find problems that interest you and that you feel you have the potential to make a unique and independent contribution.
5) When you have free time, what are your hobbies?
I like to spend time with my family. We go kayaking together and go on trips to explore both wilderness and large urban environments. I also enjoy cooking interesting dishes with and for my family.