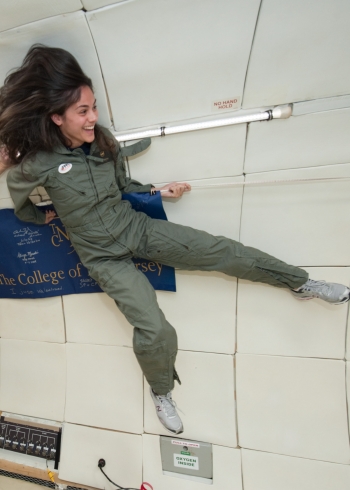 Aliya Merali is a Program Leader in Science Education at the Princeton Plasma Physics Laboratory (PPPL).
Check out other profiles in the Women @ Energy series and share your favorites on Pinterest. 
Aliya Merali is a Program Leader in Science Education at the Princeton Plasma Physics Laboratory (PPPL). She received her degree in physics from The College of New Jersey in 2011. Aliya has performed research in dusty plasmas with PPPL, worked on the Cryogenic Dark Matter Search at the University of Florida, and participated in collaborations with NASA resulting in four microgravity flights aboard the 'Weightless Wonder.' Combining her background in physics with her interest in outreach and science communication, Aliya now coordinates a variety of events geared towards providing opportunities for students interested in science careers. She directs a conference for over 350 young women interested in STEM, works in an underprivileged school district to bring science experiments to life with underrepresented students, and collaborates on a multitude of other outreach programs including internships, science competitions, and mentoring programs.  
1) What inspired you to work in STEM?
As a student, I always enjoyed studying the sciences. To me, it was the most exciting field -- not only is it constantly evolving, but it has the potential to solve some of the world's greatest problems. As I approached college, I knew that I wanted to focus my studies in a field that would challenge me now, and continue to challenge me throughout my career. I wanted a path that could lead to helping people, whether that meant on an individual basis, or the population as a whole.  A career in STEM fields gives you the skills and direction to have an impact such as this one on the world around you.
2) What excites you about your work at the Energy Department?
Working at the Department of Energy allows me to interact with some of the brightest minds on some of the most cutting-edge projects. For me, the most exciting part about this is getting to share it with the public. I love to excite people about the work we are doing here - when they realize the potential of our research, I think it makes them appreciate how important the STEM fields really are to our society. 
3) How can our country engage more women, girls, and other underrepresented groups in STEM?
I believe that our country needs to make the STEM fields more accessible to the youth. A strong stigma exists about the sciences - we often present them to our students through media and society as fields that only the elite few are capable of. As a result, the stereotype is perpetuated and the underrepresented groups in STEM continue to avoid the field, despite their potential to improve it. Ultimately, I believe that if we change the way we present the sciences to the youth by highlighting the underrepresented and non-stereotypical members of the STEM fields, the social stigma will deteriorate.
4) Do you have tips you'd recommend for someone looking to enter your field of work?
Nothing is more valuable than experience. Try to take advantage of as many opportunities as you can - there is no better way to determine if you are interested in something than by trying it. Keep an open mind and don't rule out a field or topic without giving it a shot. Experience can only help you in the long-run.
5)  When you have free time, what are your hobbies?
My all-time favorite hobby is traveling - I love to explore the different cultures and societies around the world. At home, I enjoy reading, music, hiking, and fitness.