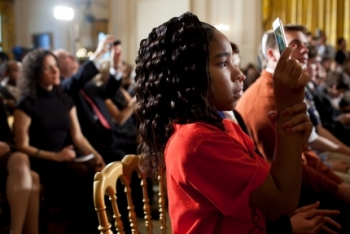 Ma'kese Kesley takes a picture as President Barack Obama delivers remarks during the second White House Science Fair in the East Room of the White House, Feb. 7, 2012. Join Ma'kese and others for a "We the Geeks" hangout this Thursday. (Official White House Photo by Pete Souza)
Editor's Note: This is cross-posted from WhiteHouse.gov 
In order for the United States to continue to lead the world in innovation and reap the health, security, and economic benefits offered by cutting-edge discoveries in science, technology, engineering, and math (STEM), we must engage the Nation's full talent pool in these growing fields, including America's girls and women. 
On Thursday, March 20th at 1:00pm ET, the White House will host another episode of "We the Geeks", this time focused on "Women Role Models". Tune in to this Google+ Hangout to hear from women and girl STEM leaders as they share their stories and advice to inspire the next generation of young women to discover their inner geeks and become the inventors and leaders of tomorrow. You'll hear from an all-star line-up, including:  
Viewers can join the conversation by asking questions on Twitter using #WeTheGeeks. And you can view the hangout Thursday at 1pm ET by visiting www.WhiteHouse.gov/WeTheGeeks.
In celebration of Women's History Month, and in addition to this We the Geeks, we at the White House have targeted a series of activities aimed at increasing the participation of women and girls in STEM. Research shows that outstanding women mentors and role models can break down stereotypes and help girls believe—by seeing—that they too can succeed in STEM education and careers.   And so, we have a number of exciting activities lined up, throughout March, to showcase exceptional STEM women who can serve as role models to young people, especially girls, and inspire them to excel in STEM education and careers. 
As an early kick-off, last Tuesday, OSTP's Associate Director for National Security and International Affairs Patricia Falcone participated in an event around the 58th session of the Commission on the Status of Women, hosted by the U.S. National Council-UN Women. At this event in New York City, Dr. Falcone joined an exceptional group of women to amplify a call to action for external organizations and companies to join the Administration's efforts in this domain, in particular through the work of the White House Council of Women and Girls (CWG) and the White House Working Families Summit planned for later in 2014.And next week, on Monday, March 24, the U.S. Small Business Administration (SBA) and the National Women's Business Council will host a Twitter Q&A to answer questions focused on helping women in STEM fields move from the lab to launch their own companies, including advice from women who have successfully made this transition.
In addition, throughout March, the CWG has published a series of blog posts highlighting progress to meet the CWG's charge to ensure that the needs of women and girls are taken into account across Federal agencies in the policies they draft, the programs they create, and the legislation they support, while underscoring that more work needs to be done.  Each day this week you can read about the incredible work being done through blog posts by NASA, the National Science Foundation, and the Departments of Energy and Transportation, among others, here.
Outside of Women's History Month activities, the Obama Administration continues to take steps to ensure that America's innovators, scientists, and engineers tap into our Nation's full talent pool of stellar STEM women, including by promoting educational programs and environments that encourage the participation of women and girls in STEM fields; increasing opportunities for STEM mentorship to support young women throughout their STEM careers; and raising the profile of accomplished women and girls in STEM through digital platforms at the White house, and across agencies (check out  Women@NASA and Women@Energy).     
Check back right here throughout the remainder of March for more information about ways we are working to inspire the next generation of women and girl STEM innovators and share your own story about being amazing women and girls in STEM online using #STEMwomen.