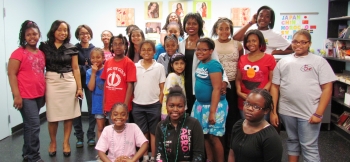 Dot Harris visited the after school program at the Greater Atlanta chapter of Girls Inc. on May 18.
"Who here has seen the movie The Help?" I asked. Twenty hands went up, eager for me to call on them. "What does Aibileen say to the little girl she takes care of?"
The answer came ringing back from the girls surrounding me – "You is kind. You is smart. You is important."
The girls who knew that answer were part of the Greater Atlanta chapter of Girls, Inc., an organization that empowers girls to believe in themselves, their goals, and their future. At their after school program in Marietta, Georgia, I shared how I ended up working as an engineer, business executive at GE, and a Director at the Energy Department. Like many of the girls in this program, I had lived in Atlanta, and grew up in a rural community. Like Girls Inc., I know that the path to a girls' full potential requires strong role models and a commitment to be "strong, smart, and bold".
It's no secret that at the Energy Department, we hope that many of the girls in Girls Inc. (and in mentoring programs nationwide) will consider careers in science, technology, engineering, and math (STEM). We want to develop the next generation of the women who will be joining us at the Energy Department, making our air easier to breathe, protecting our water and lands, and developing our clean energy technologies. 
There's a clear gender gap when it comes to STEM fields, but women who work in these fields earn on average 33 percent more than their counterparts in other fields. That's not to mention the exciting challenges in STEM fields as we work to out-innovate, out-educate, and out-build our competitors. As part of the White House Council on Women and Girls Womens' Speakers Bureau, I shared my path that led me to join the energy sector, and why the work of the Energy Department is so critical to our country.
When I met with eight to sixteen year old girls at Girls Inc. last Friday, I encouraged them to live the words of Abilieen – kind, smart, and important – and to embrace the Girls Inc. motto of being smart, strong, and bold. That's how these girls, and others in Girls Inc. chapters across the country, will run our Nation's small businesses, discover our new research, and excel in every path that they seek to follow. That's how we'll win the future.