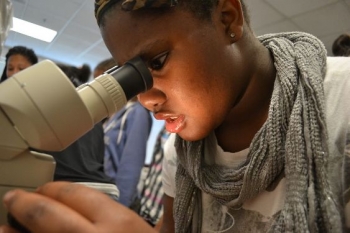 There is a critical need for more minorities to enter the energy industry. Hands-on activities like the workshop pictured above at the Spelman Girls Institute (Nov 17, 2012) help provide these entry points.
*Editor's Note: This article was originally published in the December 2012 edition of The Legislator, a publicaiton of the National Black Caucus of State Legislators.*
For America to succeed in the 21st century, making sure all children receive a world-class education is more than a moral obligation; it's an economic imperative.
As President Obama stated, our Nation faces a stark choice: we can invent and manufacture the clean energy technologies of tomorrow in America for export around the world—or we can cede global leadership and end up importing them from China, India, Germany, and elsewhere.  As Americans, we never back down from a challenge, and the Energy Department knows that it is mission-critical to help more minority students get on career tracks in Science, Technology, Engineering, and Mathematics (STEM) fields.
Currently, minorities—particularly African Americans—claim a disproportionately small share of the high-tech, high-paying jobs in the industries inventing and producing the new energy technologies that will propel American innovation and provide a foundation for future prosperity.  According to the Department of Commerce, the demand for STEM-related jobs grew three times faster than the demand for all other jobs in the past decade. 
A recent study found that minority students who choose a STEM major tend to make higher salaries than those who choose other majors, regardless of whether or not they actually pursue a career in a STEM field.  Among the students surveyed, those who majored in STEM subjects now earn 25 percent more than their peers who majored in humanities or educational fields.  Those who are working in professions related to their STEM majors now earn 50 percent more.  Our country clearly needs all the resources we can bring to bear to out-innovate, out-educate, and out-build the competition.
Far too many minority students are not getting the educational foundation during middle school and high school that they need to succeed in the globalized economy.  They lack financial resources for college, mentors in STEM-related fields, and general awareness of STEM-related careers.
At the Energy Department, we're working to address some of these gaps by providing minorities with opportunities for hands-on work in STEM fields, exposing more students to potential career paths, supporting scholarships and fellowships, and fostering mentorships with some of the world's leading scientists and engineers.  My office conducts technical assistance workshops for faculty members at Minority-Serving Institutions to facilitate engagement with the Energy Department's activities and programs.  These workshops deal with the basics of contract and grant application preparation and how to do business with the Department so that these institutions can take full advantage of the opportunities we offer.
For example, our Dr. Samuel P. Massie Chairs of Excellence Program creates teams of world-class researchers, scholars, and teachers; nine Historically Black Colleges and Universities currently participate in this program.  Their collaborative research has resulted in solutions for bridges and highway repairs, improved transportation technologies, high-tech defense systems, cutting-edge computer codes for modeling and simulation, and a step-by-step implementation guide for ISO standards, enabling U.S. manufacturers to be more competitive in the global market place—just to name a few.
To encourage students to excel in science and math and to pursue careers in those fields, the Energy Department launched its National Science Bowl competition in 1991. The high school competition now involves more than 13,000 students, and the newer middle school competition, more than 5,000.  
The Energy Department also administers a number of internship programs designed to encourage students from Minority-Serving Institutions to join the Department of Energy workforce.  The Minority Educational Institution Student Partnership Program brings students to our labs and to our headquarters offices for summer internships, providing stipends for students to work with scientists and engineers in energy fields.  As a more specialized opportunity, the Mickey Leland Energy Fellowship is a ten week summer internship program for minority and female students who are pursuing degrees in STEM and want an opportunity to work on fossil energy challenges.
President Obama continues to see nuclear energy as an important part of his all-of-the-above approach to America's energy future, and our Office of Nuclear Energy has supported research equipment upgrades and funded scholarships for students in nuclear engineering at four Historically Black Colleges and Universities.  These investments in America's nuclear energy future total $774,000. Through partnerships with organizations such as the Thurgood Marshall College Fund and the National Action Council for Minorities in Engineering, the Energy Department supports additional scholarships to minorities pursuing degrees in STEM, providing over $250,000 to the Thurgood Marshall College Fund since 2006.
There is a critical need for more minorities to enter the energy industry.  Whether it is by increasing interest in STEM for young Americans, encouraging minorities to pursue STEM careers, or by mentoring others as a leader in your field, I urge you to seize opportunities to support efforts that meet this need.
When Americans of all ethnic, racial, and socioeconomic backgrounds are at the table pursuing discovery, invention, and innovation—whether as small business owners, energy entrepreneurs, policy makers, or in STEM careers—the whole country benefits.  The Department of Energy welcomes the support of the National Black Caucus of State Legislators.  Enhancing this partnership will have a ripple effect: investing in STEM development in our communities, generating good, high-paying jobs, and stimulating America's economic growth.