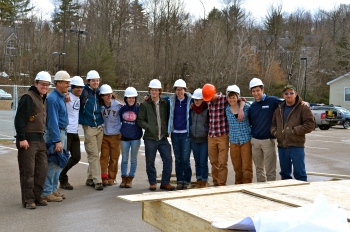 Team Middlebury at their Spring Build of the InSite, a 954 sq. ft. solar-powered home that's set to compete in the 2013 Solar Decathlon. Cordelia, Team Manager, is pictured sixth from the right.
Looking back on my experience with the Solar Decathlon, I am a firm believer that the small decisions we make can leave profound marks on our lives, and that passion is more important than experience when accomplishing lofty goals. During my first week at Middlebury College in Vermont, I walked into an informational meeting about a student project to design and build a solar powered house. Because of my upbringing in Brooklyn, NY, where electricity flows invisibly throughout apartment buildings and skyscrapers as opposed to solar panels or windmills, I didn't know much about alternative energy. The mere idea of liberal-arts students as engineers and construction workers was surprising; I needed to know more. Skepticism soon turned into enthusiasm and an eagerness to push the boundaries of my education out of the lecture hall and onto a construction site. Participating in the Solar Decathlon allowed me to supplement my theoretical and aesthetically-oriented Architectural Studies Major with realistic understanding of energy strategies and environmental implications associated with design and construction.
Four years and two decathlon teams later, I have learned more than I could have possibly imagined about energy and architecture, and how we can all work towards a truly sustainable future. My experience on Self-Reliance, Team Middlebury's 2011 entry, and InSite, our 2013 entry for which I am the Team Manager, has opened my eyes to  how to consciously approach construction to create buildings that improve communities socially, economically, and environmentally. The centerpiece of our home is our "Solar Path," a solar structure with 26 PV panels which acts as a pleasant shaded walkway to the home. The idea for the Solar Path came from a challenge to design a home for a site in Middlebury that would not accommodate solar power in an efficient way due to shading and street orientation. This constraint opened our minds to creative solutions, resulting in something that we believed could make a positive change.
Working alongside like-minded students who look beyond their own abilities in the classroom has changed my perspective on the STEM industry. Team Middlebury approaches the Solar Decathlon not from a strict architectural or engineering perspective, but from one in which chemistry and economics majors play as crucial a role in our project as do the architectural studies students. Our team has home grown engineers who integrate mechanical science with perspectives from the arts and humanities. In fact, we see our interdisciplinary approach as our greatest asset as a team as we think critically about what we are trying to accomplish and how to integrate solutions.
InSite, a 954 sq. ft. solar-powered home, is set to compete in the 2013 US Department of Energy's Solar Decathlon. Although we have aspirations to be successful in the competition, our team is equally as dedicated to spreading useful ideas on how any individual family can increase their sustainability without constructing an entirely new house. Taking inspiration from our hometown, we developed the 5 Points of InSiteful Design that direct architecture to integrate into its surroundings, aesthetically and environmentally. For more information on our principles, see our website at sd13.middlebury.edu/mission.
We seek to make sustainable design accessible to anyone on any budget, as the future of environmentally conscious design resides with every family. Our engineering strategy begins by reducing the need for mechanical systems through a passive ventilation system and a tight thermal envelope that keeps the home warm in the winter, but cool in the summer. We believe that technology can malfunction more often than our natural climate of Vermont does, and so we look to utilize what exists before turning to expensive technology.
Being a recent graduate of Middlebury College, I am excited to explore opportunities in environmentally sustainable design that also consider social and economic sustainability and that engage passion in addition to knowledge when solving problems. Working on the Solar Decathlon has introduced me to powerful ideas, but more importantly I have met students who defy expectations, teaching me that positive change can come from unlikely places.