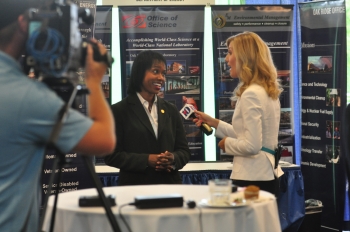 Dot Harris speaking live to WBIR, a local Knoxville television station, the morning of the Energy Department/National Nuclear Security Administration Small Business Summit (July 10). Photo: DOE Photographer Lynn Frenny
During the last fiscal year, the Energy Department contracted with over 7,000 small businesses, doing over $8 billion worth of business overall. While this is the second highest number in terms of dollars in the federal government, we want to make every effort to get new small businesses into the mix, introducing them to the Energy Department's federal contracting process.
That's why I was in Knoxville, Tennessee last week with 360 small business owners and employees to connect them to Energy facilities and business opportunities. During our three day conference (July 9-11), attendees had the opportunity to reach six Energy Department facilities at once, saving travel costs while learning about billions of dollars in planned contracting opportunities.
Speaking for the Department's headquarters, I was there along with small business procurement experts from Oak Ridge National Laboratory, B&W Y-12, UCOR, Oak Ridge Associated Universities, and Wackenhut Services Inc. Major companies including Deloitte, Pilot Corporation, McCarthy Building Companies, the Tennessee Valley Authority, URS Corporation, Energy Solutions, Fluor, B&W Pantex, and Jefferson Science Associates were on hand to present partnership and contracting opportunities. 
Events like this Energy Department/National Nuclear Security Administration Summit are important because they allow small businesses to hear from contracting officers with real opportunities. The Uranium Processing Facility is a $6.5 billion project with $700 million slated for small business. Oak Ridge National Laboratory purchased $818.2 million in materials and services in FY 2011. The NNSA Y-12 Site Office issued more than $348 million in subcontracts in FY 2011 to small businesses. The Knox County Government bought $240 million in FY 2011 in operations and construction materials. 
In the clean energy sector alone, hundreds of billions of dollars in economic opportunity are at stake. Last year, a record $260 billion was invested globally in clean energy, and trillions of dollars will be invested in the coming decades.  There is tremendous economic opportunity for the countries that invent, manufacture and export clean energy technologies.  The United States can, and should, win the global race for clean energy technologies, and that begins with our small businesses.
Learn more about doing business with us at http://energy.gov/diversity/working-us/small-businesses-101-doing-business-department-energy