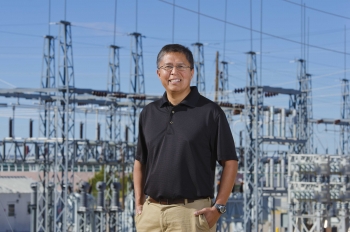 Dr. Stan Atcitty, a Sandia engineer, works on power electronics and energy storage integration to the grid. A program run by Sandia Labs for Native Americans in STEM paid for his Master's and Ph.D. degrees while he worked at Sandia.
From their labs under the hot New Mexican sun, the staff at Sandia National Laboratories has been quietly drawing in some of the Nation's top Native American scientists and engineers. They've amassed a team of award-winning innovators through long-term recruitment efforts, connecting new arrivals to thriving Native American community at Sandia.
Sandia knows that interests in science starts at a young age, and therefore preparing the next generation of Sandia award-winning researchers and scientists must take a long-term approach. Sandia's American Indian Outreach Committee (AIOC) recruiting team has consistently been successful in identifying and attracting candidates to the Labs to work in science, technology, engineering, and mathematics (STEM) fields. 
The AIOC has grown up alongside the American Indian Science and Engineering Society (AISES), a membership-based organization. Sandia's AIOC and AISES both center their work around recruiting Native American students to STEM fields, beginning at an early age. Both organizations also create communities, running educational and social events to help Native Americans in STEM network and create mentor/mentee partnerships.
Sandia relies on AISES to identify candidates to recruit for competitive positions at their labs by visiting AISES conferences to sponsor booths and workshops to increase knowledge about Sandia. AISES, recognizing Sandia's leadership in identifying Native American researchers, engineers, and scientists who are critical to fulfilling the Department of Energy's mission, often tap Sandia employees to serve on their Board of Directors and other leadership positions.
At Sandia, recruiters stay in touch with Native American students in STEM as early as elementary school, and keep in contact throughout their entire education with information about internship programs and educational activities along the way. "It takes time and effort to keep in touch," said Marie Brown, "and we hope they come to Sandia."
One of these programs is Sandia's Dream Catcher Science Program. For the past ten years, it has aimed to get 6th through 12th grade students engaged in science activities with Native American role models, offering summer Saturday morning classes in STEM taught by American Indian professionals.
Another event is the "Diversity Science Engineering Expo/Business Administration Expo," which ran immediately before the AISES National Conference in Albuquerque last year. The Expo selects students to come to Albuquerque to meet Sandia leadership and tour the state-of-the-art facilities, giving them a hands-on perspective of life at Sandia. Last year, of the 19 Native American scientists and engineers that attended the event, 10 were hired to join Sandia's workforce.
Dr. Stan Atcitty, a member of the Navajo Nation, is one of the skilled engineers who was recruited by Sandia. Dr. Atcitty is known for his awards given by R&D Magazine to the 100 most innovative products of the year. His work, focused on power electronics and energy storage integration to the grid, could have gone elsewhere. 3M, a major company in Minnesota, was tempting, but he chose Sandia when they offered to pay for his Masters and PhD degrees, sending him through accelerated programs so he could bring the results of his research back to Sandia. 17 years later, Atcitty is still telling members of his home community of the benefits and the Native American community at Sandia, speaking at AIOC events to spread the word.
Atcitty is joined at Sandia by other successful Native Americans in STEM like Dr. Yellowhair, an Optical Science Engineer, and Benjamin Mar, an Electrical Computer Engineer. Mar had the honor of winning a nationally-coveted award from AISES this year, recognizing him as the Most Promising Engineer in 2011. Nancy Jackson, Ph.D., is the President of the Board of the American Chemical Society when she's not working in Sandia's Chemical Threat Reduction Department. Jacob Spring, a member of the Choctaw Nation, is an award-winning Electrical Engineer at Sandia Labs, and Karen McDaniel of the Navajo Nation won an AISES Technical Excellence award in 2010 for her work in mechanical engineering.
Native American researchers, engineers, and scientists are critical participants in fulfilling the Department of Energy's mission, and the work of AISES and Sandia's AIOC are key players in developing Native American STEM professionals.
For more information about the Department's work with Tribal Communities, visit http://energy.gov/diversity/working-us/tribal-communities