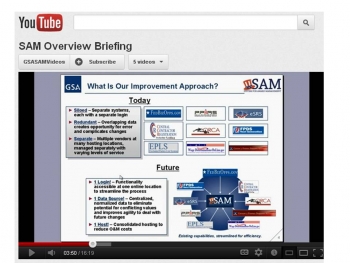 It's no secret that small business owners have very busy schedules. They must manage business development, operations, finances, personnel, as well as accessing passwords to access the numerous websites necessary to do business with the federal government.
To assist small businesses to alleviate the burden of managing many different user names and passwords for various business websites, we are streamlining online resources to create a one-stop-shop to registering your business.
Meet SAM – the System for Award Management. SAM merges the information that was housed in the Central Contractor Registration (CCR) along with several other duplicative systems, like the Federal Agency Registration (FedReg), the Online Representations and Certifications Application (ORCA), and the Excluded Parties List System (EPLS).
If a small business is currently listed in any of the old systems, the data will be automatically rolled over into SAM. Therefore, no additional work is needed as the government switches systems.
Online systems like SAM connect small businesses with opportunities. They also help contractors find small businesses. At the Energy Department, we use data mining for finding qualified small businesses that can meet the requirements of open procurements, and SAM will be a go-to resource for us.
Streamlined online resources are key to making sure that we enable small businesses to successfully work with the federal government, spurring job creation and innovation along the way. For more information about SAM, check out www.sam.gov.