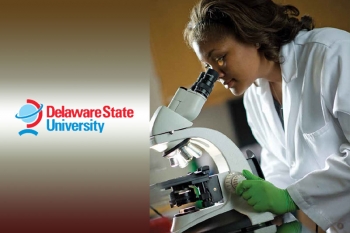 Editor's Note: This blog was originally posted on OSTI's blog.
As America celebrates Martin Luther King's birthday and focuses on how far this nation has come for all people, the Energy Department's .EDUconnections is pleased to honor Delaware State University (DSU).
DSU is a shining example of Dr. King's extraordinary legacy of progress and education. Founded in 1891, DSU became one of the country's first land-grant educational institutions and is now a Historically Black College and University. DSU has a proud heritage of research, and today focuses on cutting-edge research, technology and business practices that brought the University into modernity and made it a member of the scientific, solution-seeking community.
DSU research affiliated with the Energy Department can be found in the Office of Scientific and Technical Information Energy Citations Database and hundreds of DSU's scientific endeavors can be retrieved in Science.gov, a gateway to U.S. Federal Science.
.EDUconnections spotlights higher education institutions and helps demonstrate how research and technical advancements through Energy Department-sponsored programs are propelling our future workforce to new discoveries in science, technology, engineering, mathematics (STEM) and many other disciplines. DSU's accomplishments are to be congratulated as faculty and administration there prepare their students for the global challenges in the new millennium and beyond.