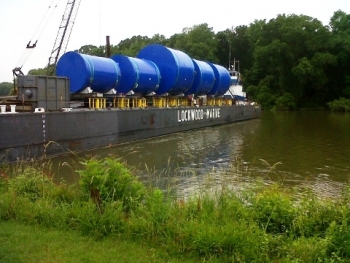 Large nuclear material processing tanks, like the one destined for Savannah River Site's (SRS) Salt Waste Processing Facility, will be managed with the support of qualified small businesses.
Today the Energy Department announced contract awards to seven small-disadvantaged businesses to perform critical technical services. The contracts, awarded by the Office of Environmental Management, speak to the importance of our nation's small business support to the mission of the Department.
Each contract will have a maximum value of approximately $4 million, with the terms of a one-year base period and three one-year option periods. The small-businesses receiving the contracts are:
Trinity Engineering Associates; Cincinnati, Ohio
Terranear PMC; Irving, Texas
Aspen Resources Limited; Boulder, Colorado
DLE Technical Services; Palm City, Florida
Boston Government Services; Lenoir City, Tennessee
JG Management Systems; Grand Junction, Colorado
North Wind Solutions; Idaho Falls, Idaho
These small-disadvantaged businesses will be providing a variety of technical services to the Department, including developing tank waste strategies and technologies; providing policy guidance for transportation safety, operations, and packaging management; removing transuranic waste inventory at the Los Alamos National Laboratory; assuring safety and quality of facility operations; and reviewing construction projects and providing peer reviews. 
These small business awards have a ripple effect, enabling small business owners to provide good-paying jobs to people in their communities and supporting entrepreneurship and innovation. Our office works hard every day to help small businesses like these ones learn the ins and outs of government contracting, and we are pleased that the contracts awarded today went to qualified small-disadvantaged businesses.