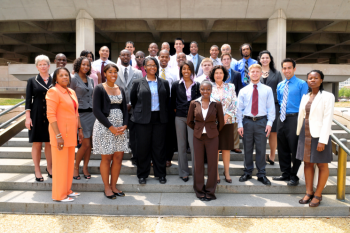 Minority Educational Institution Student Partnership Program interns at Department of Energy headquarters in Washington, D.C. | Energy Department photo.
Today is bittersweet. As a summer intern for the Minority Educational Institution Student Partnership Program (MEISPP), I'm walking into my junior year of college having picked up 10 weeks of government lingo, insight into programming, and new passion for working on expanding diversity in STEM fields. Sadly, I'm also walking away from my desk at the Department of Energy's Office of Economic Impact and Diversity, as I complete my internship and say goodbye to the people I've met along the way.
During our close out session today, the Office of Economic Impact and Diversity brought in speaker Carla A. Harris, a managing director for Morgan Stanley who has spent nearly 20 years working in capital markets. She took the entire intern class through a tour of what it means to never take no for an answer and how to gain excellence in our future careers.
"I think the biggest challenge for this next generation is their sense of urgency in trying to make the right decision RIGHT NOW about their careers," said Carla Harris. "In this day and age, few people stay in one place for 25 years – so don't worry about where you will be that far from now. Devote your time and energy thinking about putting yourself in a position to get the maximum experience and skills to serve you in the future – wherever that future may take you. "
We also had a panel on professional development and career opportunities with Cascades Technologies, Inc's CEO, Alfredo Castas, and U.S. Commodity Futures Trading Commission's Chief Learning Officer, Jeffery Vargas, along with students who participated in the program with me.
Alfredo Castas, had great insight on what it takes to move up in a career – building relationships. "Get to know those around you and support other people – that's what gets you known," he said. "At the end of the day it's about your reputation, your character, and delivering excellence."
As I walk away from my experience as an MEISPP intern, I hope that the future takes me far beyond my greatest expectations. I look forward to applying all that I have learned during my summer with the Department of Energy to my studies as a marketing major, and utilizing all the skills that I have gained to give back to those in my university and community. Working with the Office of Economic Impact and Diversity has opened my eyes to the importance of the gain and retention of minorities and women in STEM fields. With this, I look forward to sharing all that I have learned in these 10 weeks to inspire others to explore all of the endless opportunities available through the government and STEM.