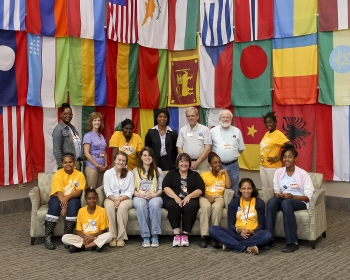 Girls from Martha O'Bryan Community Center and Maryville Christian School visiting Director Dot Harris at Oak Ridge National Laboratory discussed STEM careers, educational opportunities, and exploring science this August.
There's an old axiom that you can't be what you can't see. Perhaps if you think about what inspired you to enter into your current job, or line of study, you'll recognize a role model or two that inspired you to take your current path.
The Energy Department has this axiom in mind when examining ways to address the serious shortage of females engaged in STEM in the United States. That's why I am part of the White House Council on Women and Girls STEM Speakers Bureau, adding outreach sessions about my work in STEM to my travel whenever I am out of the District for meetings. Earlier this month, I met with middle school girls from the east Nashville area, who drove in to Oak Ridge National Laboratory for a full lab tour and to speak with me about their visions for pursing a career in STEM. The visit connected the girls with STEM professionals and showed them what a bustling, state of the art National Laboratory has to offer.
Hear directly from the girls on their experience at Oak Ridge National Laboratory:
"I had an awesome time at Oak Ridge.  I learned a lot of new things about STEM.  The machines, and the way mercury travels and is used is interesting.  The scientists we met were so smart.  I may have a job using STEM one day." - Antonya Jones, 8th grader at Bailey STEM Magnet Middle School.
 "I really enjoyed seeing the atom travelers.  This isn't really relevant but I saw a cracked window which shattered into a million pieces…it was cool also.  We learned about Marie Curie.  I didn't know so many women were involved in STEM. Director Dot Harris was so smart and so pretty.  She made me feel proud to be a girl." - Tiara Malone, 8th grader at Litton Middle School.
"My favorite part of Oak Ridge was seeing the World's Largest Computer.  Well, it tied with meeting Director Harris and taking a picture with her.  We had an awesome time.  They said they have a summer camp, maybe I can go." - Brianna Deng, 6th grader at KIPP Academy.
"The experience I had was great. I learned lots of new things.  I loved all the great STEM research they do at Oakridge.  I really enjoyed meeting Director Dot Harris.  She was so nice." - Shamira Jones, 6th grader at Bailey STEM Magnet Middle School.
"My visit to Oak Ridge National Lab was very enjoyable.  Seeing both the super computers housed at Oak Ridge and the Spallation Neutron Source during tours led by female scientists served as visible proof that I too could work one day in a science field.  Director Harris was very supportive and encouraging, and I was inspired knowing her story and the fact she was interested in helping other young women become interested in STEM careers." - Lillie McCampbell, Maryville Christian School.
The girls who I spoke with are from the east Nashville area in Tennessee, and part of the GRITS – Girls Raised in Tennessee Science Collaborative Project, part of the National Girls Collaborative Project. Many are  participants in the Martha O'Bryan Center, which was founded in 1894 to empower children, youth, and adults in poverty to transform their lives through work, education, employment, and fellowship. The participants are from east Nashville, an area where 9 in 10 students don't attend college, unemployment rates are higher than neighboring counties, and the dropout rate is 23 percent above the county average. There were also girls there from Maryville Christian School, just south of Knoxville.
With continuous outreach from our National Laboratories and headquarters, the Energy Department aims to make  these connections for many more young students. If you have a speaking request, get in touch by emailing diversity@hq.doe.gov