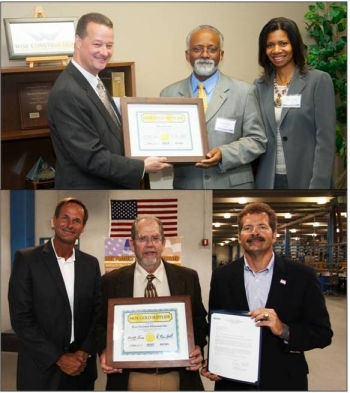 Top: MOX Services President Kelly Trice, left, presents a certificate to Wise President and Owner David Abney and Wise Marketing Director Renee Abney. Wise was recognized as a 2012 MOX Gold Supplier during a special presentation in Dayton. Bottom: Byers Precision Fabricators was recognized as a 2012 MOX Gold Supplier during a special presentation in North Carolina. Steve Marr of MOX Services (left) and Kevin Hall of NNSA (right) present Roger Byers (center) with the award.
From prime contracts to subcontracts, small businesses provide mission-critical work every day, enabling the Energy Department to achieve its mission. At the National Nuclear Security Administration (NNSA), MOX Services, the contractor responsible for the construction of the Mixed Oxide (MOX) Fuel Fabrication Facility, has awarded 9,683 subcontracts to small businesses to support its nonproliferation efforts to dispose of surplus weapon-grade plutonium by fabricating it into MOX fuel for use in commercial nuclear power reactors.  MOX Services' success in completing this project lies with finding and utilizing the products and services supplied by small businesses. NNSA and MOX Services are committed to increasing the contracting opportunities for small and disadvantaged businesses, and the 9,683 subcontracts they have awarded to small businesses total approximately $860M. 
NNSA and MOX Services have been fortunate to have worked with some exemplary small business subcontractors on the MOX Fuel Fabrication Facility. Here are higlights on some of these small businesses:
Byers Precision Fabricators
Byers Precision Fabricators, a small business located in Hendersonville, North Carolina, specializes in laser precision cutting-edge technologies and fabrication. It currently has a multimillion-dollar contract in support of the MOX facility.  Byers is providing Nuclear Quality Assurance (NQA) Level-1 fabrication and assembly of process unit equipment glovebox shells, ventilation, mechanical components, and internal assemblies. With less than 50 employees, Byers has consistently performed and delivered high quality units on schedule and within budget for the MOX project and performed at levels usually expected of much larger world class companies. This September, NNSA and MOX Services presented Byers Precision Fabricators with the first "Gold Supplier Award" for its exceptional performance. Byers currently has approximately $10M in active contracts with MOX Services.
Petersen, Inc.
Petersen, Inc., with locations in Ogden, Utah and Pocatello, Idaho, is a small business that provides custom steel fabrication and machining services to industries throughout the country. Petersen's contributions to the MOX project have been invaluable and it currently has approximately $80M in active MOX contracts, primarily for the fabrication of gloveboxes and internal assemblies that need to adhere to the strictest NQA Level-1 standards. Petersen, Inc. has performed superbly providing quality products, resulting in its selection as one of MOX Services "Gold Suppliers" and it will be presented an award in the near future.
SMCI
SMCI, Inc. is a small business metal fabricator located in Lakeland, Florida.  After qualifying as a Quality Level 1 (QL-1) fabricator in 2005 before the start of MOX construction, SMCI successfully bid two successive solicitations for fabrication of the thousands of metal plates that will be embedded in the concrete structure of the MOX facility.   Over the last six years, SMCI has delivered over $25M worth of fabricated metal embedded plates and has consistently delivered a quality product.   SMCI has been very responsive to the project's needs and, during the peak construction years, was delivering 70 to 80 thousand pounds of fabricated metal plates per week.  With SMCI's dedication to the project and its ability to consistently manufacture quality products, the MOX project's concrete work has been a success.
Wise Services
Wise Services is a Dayton, Ohio-based business that performs specialized construction, dismantling, stabilizing and environmental restoration. The company was a subcontractor during the environmental clean-up and site closure of the Department of Energy's Fernald uranium production facility in Ross, Ohio.  Wise Services is a division of Wise Construction Company, a full service general contractor headquartered in Dayton.  Wise has provided construction services for MOX Services since 2008 and has been awarded nearly $41M in subcontracts.  This December, NNSA and MOX Services presented Wise Services with a "Gold Supplier Award" for its exceptional performance.  
All four of these subcontractors were performing limited to no NQA-1 fabrication work prior to receiving their respective MOX Services subcontracts.  As a result of this successful work, these vendors are well poised to support future nuclear new build projects.
The MOX Fuel Fabrication Facility is being built to support the U.S. commitment under the Plutonium Management and Disposition Agreement (PMDA), which commits the U.S. and Russia to each dispose of at least 34 MT of surplus weapon-grade plutonium, enough material for approximately 17,000 nuclear weapons. The plutonium will be fabricated into MOX fuel at the MOX facility and then irradiated in domestic nuclear power reactors. After the MOX fuel is irradiated in civilian reactors, it is no longer suitable for use in nuclear weapons.