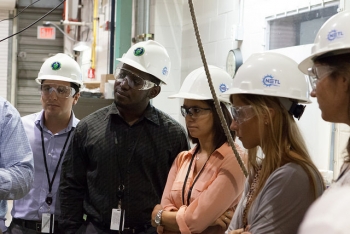 Students in the Mickey Leland Energy Fellowship tour the National Energy Technology Laboratory in Morgantown, WV.
The Office of Fossil Energy's Mickey Leland Energy Fellowship kicked off its 19th year this June with a class of 44 undergraduate, graduate and post-graduate students joining one of the Department of Energy's premier educational programs.  The students are science, technology, engineering, and mathematics (STEM) majors representing 40 colleges and universities from across the nation who will conduct cutting-edge research at the National Energy Technology Laboratory and Strategic Petorleum Reserve during their 10-week summer assignment.  Students will also learn about project finance, policy and regulation, and strategic performance measures at Headquarters.
The Mickey Leland Energy Fellowship Program provides unique educational experiences for students studying science, technology, engineering and mathematics.  An empasis of program is to increase  opportunities for women and minorities in STEM career fields.  Participants also get an inside view of what it is like to work for the Department of Energy (DOE). 
"I am excited to work alongside an Office Director and see how he goes about making important decisions as well as his work ethic," commented George Chacko, a junior at the Penn State University majoring in Energy, Business and Finance.  Ella Baar, a senior at the University of Florida studying Biological Engineering adds, "My first weeks at DOE headquarters have been such a great experience.  Everyone is helpful and encouraging of the interns. We are pulled into meetings and kept in the loop and have gotten a good understanding of how DOE works."  Allante Harrison from Fort Valley State says, "Being at DOE has provided valuable insight into graduate and career opportunities that I did not even know were available to me."
George, Ella, Allante and the other 41 Mickey Leland Fellows will continue their research for the next several weeks.  At the conclusion of the program, all of the Fellows will meet at a Technical Forum in Pittsburgh, PA.  During the Forum, each student will present the findings of their research to the group.
These interns not only gain insight into the Department of Energy and the fascinating work that we do, but also have the opportunity to make real and lasting contributions to the Fossil Energy mission.