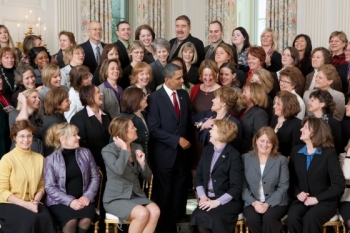 President Barack Obama talks with Presidential Awards for Excellence in Mathematics and Science Teaching winners in the State Dining of the White House January 6, 2010. (Official White House Photo by Chuck Kennedy)
Nominations are now open for the nation's highest honors for K-12 mathematics and science teachers. The Presidential Awards for Excellence in Mathematics and Science Teaching, or PAEMST, have been running since 1983, honoring more than 4,200 teachers for their contributions in the classroom and to their profession. The National Science Foundation, the government's largest funder of STEM education initiatives, administers the Presidential Awards for Excellence in Mathematics and Science Teaching on behalf of the White House Office of Science and Technology Policy.
Do you know great teachers? Are you an educator? Nominate a teacher to join this prestigious network of professionals by April 1, 2013. This year, the awards will honor mathematics and science (including computer science) teachers working in grades 7-12.
If you're a teacher, you can apply online by May 1, 2013, and the Application Packet available online here has instructions and details on the process.
President Obama has committed to strengthen science, technology, engineering and mathematics (STEM) education and prepare 100,000 effective science and mathematics teachers over the next decade. These commitments build on the President's "Educate to Innovate" campaign, which has attracted more than $700 million in donations and in-kind support from corporations, philanthropies, service organizations, and others to help bolster science and technology education in the classroom.
"America's success in the 21st century depends on our ability to educate our children, give our workers the skills they need, and embrace technological change. That starts with the men and women in front of our classrooms. These teachers are the best of the best, and they stand as excellent examples of the kind of leadership we need in order to train the next generation of innovators and help this country get ahead," said President Obama.
For more information on the Presidential Awards for Excellence in Mathematics and Science Teaching, visit https://www.paemst.org/