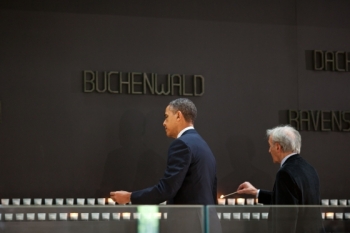 President Barack Obama and Nobel Peace Prize laureate and Holocaust survivor Elie Wiesel light candles in the Hall of Remembrance during a tour of the U.S. Holocaust Memorial Museum in Washington, D.C., April 23, 2012. (Official White House Photo by Pete Souza)
Last week,  President Obama spoke at the United States Holocaust Memorial Museum about honoring the pledge of "never again" by making sure we are doing everything we can to prevent and end atrocities and save lives.
After being introduced by Professor Elie Wiesel, a Holocaust survivor, the President spoke of the importance of telling our children—and all future generations—about that dark and evil time in human history when six million innocent men, women, and children were murdered just because they were Jewish.
The government binds together every year to honor these innocent men, women, and children, holding the Annual Federal Inter-Agency Holocaust Memorial Remembrance Program. The Department of Energy and 25 other federal departments and agencies will gather on May 9 at Washington DC's historic Lincoln Theatre, located at 1215 U Street in NW. The general public is invited to join us at this event, which begins at 11:30am. 
Victims of the Holocaust go beyond the six million Jews who were murdered - we also remember five million other victims including Soviet prisoners of war, Polish Christians, physically and mentally disabled individuals, Jehovah's Witnesses, Romani or Sinti people, homosexuals, freemasons, people with beliefs opposed to Nazi conduct, trade unionists, clergymen, and African-German people.
Our Nation commemorates the days annually so that each year anyone who does not know about the Holocaust will learn, and so that people who have learned will never forget. As President Obama said, "we must tell our children.  But more than that, we must teach them.  Because remembrance without resolve is a hollow gesture.  Awareness without action changes nothing.  In this sense, "never again" is a challenge to us all -- to pause and to look within."
Please join us to look within at the Annual Federal Inter-Agency Holocaust Memorial Remembrance Program on May 9th, 11:30am, at Lincoln Theatre in DC.
For more information, visit http://holocaustremembrance.org