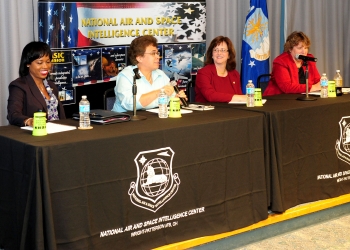 Dot Harris, Director of the Office of Economic Impact and Diversity, speaks with Aurea Rivera, President and CEO of Imagineering Results Analysis Corp., Kathleen Tucker, Director of the Information Exploitation Squadron, Global Exploitation Intelligence Group, NAISC, and Ann Carbonell, Chief of the National Geospatial Intelligence Agency Support Team in September 2013. Photo by National Air and Space Intelligence Center.
Editor's Note: This article was written by Amy Rollins, Skywrighter Staff, for the Skywriter newsletter, a publication of the Wright-Patterson Air Force base.
A top Energy Department official shared her thoughts and recommendations addressing female employees' workplace concerns at the National Air and Space Intelligence Center, Wright-Patterson Air Force Base, during an equal opportunity team (EOT) event Sept. 18.
Hon. Dot Harris, director of the Office of Economic Impact and Diversity, U.S. Department of Energy, was the featured speaker, followed by a panel discussion with three former and current NASIC employees.
Following an introduction by Col. Charles Hogan II, NASIC vice commander, Harris said empowering women in the workplace could lead to addressing the nation's lack of expertise in science, engineering, technology and mathematics (STEM). By women advancing their own STEM careers and encouraging their children to follow suit, the U.S. could have enough engineers, for example, to handle nuclear warfare, she said.
"We are also facing the concerns of our own national security folks," Harris said.
Harris cited a number of troubling statistics, of American students not being at the top globally in math and science. Trained as a nuclear engineer, she outlined her career and the risks she has taken to advance.
Tips she gave the mostly female audience included:
 Being safe and conservative doesn't always get you to where you want to go in your career. Take risks.
Ask for the order and what you want.
Discussing STEM-related topics can change the course of a child's life. Seeing women in a tech field helps inspire them.
Following Harris' remarks, a panel of women answered questions. Panel members included Harris; Aurea Rivera, president and CEO, Imagineering Results Analysis Corp.; Kathleen Tucker, director, Information Exploitation Squadron, Global Exploitation Intelligence Group, NASIC; and Ann Carbonell, Ph.D., chief, National Geospatial Intelligence Agency (NGA) Support Team, NASIC. After the panel was conducted, its members were presented with mementoes thanking them for their participation by Lisa West-Jones, EOT leader.
Question 1: Which obstacles do women face in the workplace?
Rivera: The biggest is a lack of belief that you have a role to play, that you are worthy of consideration or can make it to the next level. There's no mentorship in the world that will help you if you don't believe in yourself. Believe in you, then find a mentor, a sponsor who is willing to give you a chance. Make yourself visible. Take the assignment nobody wants.
Carbonell: Courage, self-knowledge and risks are what you have to have and take. Take jobs that make you a little uncomfortable – males are better at this than females. First set your goals and then communicate them to others so they can help you.
Tucker: To get past obstacles, take ownership of your career. Take care of yourself, push yourself and get your education. Reach out and take control.
Question 2: Females who have attempted to hold males in the workplace accountable for their work have been told they're irrational, while males are celebrated for being so assertive. Comments?
Harris: Know your domain and show expertise. Develop and build relationships and rapport. Stand up again for yourself (if you're told you're irrational) and tell the boss what you did, with a smile. Stay cool, be firm, get that expertise and be the best at what you're doing.
Carbonell: The situation-behavior-impact feedback model has been used at the NGA very successfully. I'd recommend that. It's training for everybody.
Question 3: Why pay for a master's degree that won't give me an edge in my career?
Harris: Get as much education as you can but evaluate your career. Perhaps get more experience in your career before you plow ahead with an advanced degree. Step back and assess where you are.
Question 4: How important is it to be mobile in your career?
Carbonell: The most important piece is to have a goal. Determine what you want to do. It may not be staying here. Look beyond today.
Tucker: Also note that your goals and priorities may change over time, and there are good things to learn at every job.
Rivera: It's to be expected that mobility is a part of our careers, both physically and as you engage in community activities.
Question 5: Was there ever a time in your careers you started down one path that you wanted and then jumped tracks and went elsewhere?
Harris: I started a business with my sister, leaving the comforts of the corporate world in an off-the-path move of being an entrepreneur. Then I got the call from Washington (D.C.). All has added up to opportunities. Turns in your career may not be as off-the-path as you think.
Question 6: What advice is there for women whose husbands, spouses or partners don't want to move for a woman's job?
Rivera: I'm a single person!
Tucker: There are no simple answers. I've made a decision for family. It's not easy and it's individual. When you make that decision, be comfortable with it and don't look back. But don't subjugate your aspirations and career potential. Don't be willing to give it up easily.
Carbonell: Have a serious dialogue about what a career in the military means. Talk to others in a similar situation and see how they handled it. Sometimes you have to trade off.
Question 7: Someday we'll have a female President. Who do you look up to?
Rivera: People with the right ideas and the right soul. I went to India, and every member of a family wanted to get ahead. I'd be inspired when I see people who still feel the U.S. is a land of opportunity.
Tucker: Look at females here – our four-star general, base commander and vice commander are female. The military has in many ways led the way. It's improving, but it all comes down to performance.
Question 8: How can NASIC increase diversity?
Harris: The point is diversity has been scientifically proven to make any organization more effective.
Rivera: We need to keep each other accountable. What doesn't get measured doesn't get done. I would encourage leaders and first-level supervisors to translate goals into activities and measure them.
Question 9: What is your response to NASIC's dress code for men and women?
Tucker: There are two sides to this: Performance is what matters, but there are some cultural expectations and generational differences. Acknowledging that different areas of the building have different temperatures, recognize that how you dress is how people will perceive you. If people have questions about what is appropriate, ask someone you respect. The old adage is, dress for the job you want.
Rivera: You are making a choice by the clothes you wear.
Carbonell: There is a dress code. If there is a rule and you break it and you are not prepared to pay the consequences, don't do it.
Question 10: Female retention is an issue. What corporate initiatives can be implemented to help?
Harris: Flex time and working from home as well as offering part-time work help. Technology and the virtual office help. The Department of Energy encourages flex time, such as working four 10-hour days per week.